| Wedding Coordinator | Puppy Lover | Perfect Grazing Table Arranger Gal |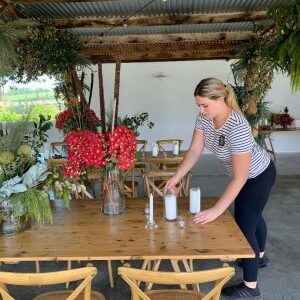 About Trin
Favourite part about coordinating weddings?
I love watching the guests walk into a space that I have helped to create and seeing the look on their faces, especially the bride & groom! That's my favourite, watching their reaction when they see their visions become reality.
Decor you are loving this season?
I love the classic colour scheme of greenery and white, simple and elegant. Also Krispy Kreme doughnut wedding cake.
What I love!
A few of my favourite things;
Flowers
My puppy, Remy
Dinner with my family
Planning holidays
KikkiK stationery
Taking pretty pictures