| Wedding Coordinator | Espresso Martini Lover | Beach-Goer |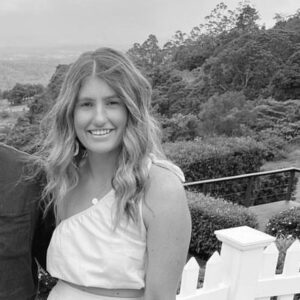 What can we find you doing on your day off/what is your perfect day?
I love being outdoors, going to the beach or pools. Going for coffee or lunch or just out for a walk with my partner, Ziggy and Nala.
Fav TV Series you are watching(or latest fav movie)?
I love a good crime or mystery or your typical rom-com (Gilmore Girls is always a good classic) but at the moment Yellowstone is the fav
Coffee or Tea?
Coffee and 2-3 cups a day haha Oat Flat White
Cocktail preference?
Ameretto Sour or Espresso Martini, depends on how I'm feeling.
Your fav thing about coordinating weddings?
Watching the bride walk down the aisle, I don't think that will ever get old. Still brings a tear to my eye.
A close second would be watching the bride and groom's face when they see their wedding day vision come to life.
Any kids or pets?
I have a little boy, Ziggy who is 1 1⁄2 and a White German Shepherd Nala whose 6, who is practically my second child.
What is your favourite place in the world?
Amsterdam
What is the best concert you ever went to?
Florence and the Machine
Takeaway night….what's your go-to fav food?
Manjits Indian, Butter Chicken Rice and Garlic Naan… mmmmmm yum!
Early bird or night owl?
Early bird for sure, I love sleep too much haha although since having Ziggy I feel like it's the only time I get to myself and 11 pm rolls around too quickly.
What energises you?
Ziggy and Nala and probably coffee haha
What's something you saw recently that made you smile?
Ziggy, trying to put his shoes on.
What's your fav way to unwind after a busy day?
On the couch with a Netflix series on and a glass of wine.
"Sarah was our day of coordinator and she was lovely. We met with her the day before our wedding at the venue and she was super friendly from the get go. She is clearly super organised and the setup was done to perfection. We had a few mishaps happen but Sarah dealt with it all without us even knowing. She was amazing.


They were so helpful before the day, particularly with getting our run sheet perfect. They helped ease our stress, and we felt comfortable knowing that if anything was to happen on the day that they would be able to figure it out without the stress coming our way."

Daana and Jacob