| Wedding Coordinator | Ultimate Perfectionist | Shiraz and Cheese Lover |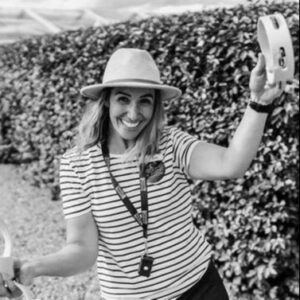 About Julz
Favourite part about coordinating weddings?
My favourite part would have to be when I meet the bride and groom, I get to take their vision for their wedding, and to bring it to life! I love getting swept up in their day of excitement! It's so beautiful to stand back at their wedding, look over at the happy faces of the bride and groom and all of their guests, and know that I had a part of bringing their special day together as they start their new adventure as Mr. and Mrs.! Such an honour!
Decor you are loving this season?
Dealing with so many different brides and grooms, different personalities and styles, the decor I love changes all the time. I am loving the rustic charm of wooden furniture mixed with different lighting and a soft candle glow! Add a different "stand out" piece like a hanging ladder with some florals and hanging tealight candles just adds that something extra for me!
What I love!
When I am not thinking about weddings, I love spending quality time with my family. My young son keeps me on my toes but I absolutely love being his Mum! Behind that, I love some time at the beach, food, a good Netflix series and a nice big glass of Shiraz with a cheese platter on the side!
"JULZ….what a star! You were a breath of fresh air to us on the day, I loved you just popping in and giving us an update on how the preparation was going…. all I wanted to do was hug you every time I saw you. Our wedding went off without a hitch and I owe it to you. All our family and friends are still talking about how amazing you were. The reception area look my breath away when I arrived, your little touches did not go unnoticed. Thank you for absolutely every thing."

Gemma and Tim