| Wedding Coordinator | Stylist | Blank Canvas Transformer |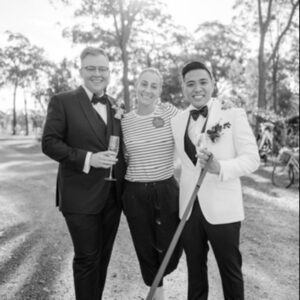 Favourite part of coordinating weddings?
I love watching the spaces transform from a blank canvas into something magical. We often work at the same venues week in and week out, but no two weddings are ever the same. I love seeing the look on our bride and grooms faces when they enter the reception space, and they realise all the little things they dreamed up have come to life, it's so special. I also love speaking with the families of our couples, their happiness is often contagious I always leave weddings with a little happiness buzz.
Decor you are loving this season?
I love seeing less of the traditional pastels and whites and people being more adventurous with bold colours. The use of more black and moody tones gets me really excited. Seeing this paired with jewel tones like ruby and deep blues and greens just look so elegant and beautiful. I also love that we are seeing more weddings throughout the cooler months of the year, give me a moody winter wedding any day.
What I love!
Although I love playing a part in peoples love stories, I do spend the majority of my time playing mum to my young son. His laugh is the most amazing sound in the world and I catch myself doing the silliest things to hear it. Once he is safely tucked away at night you can find me curled up with a nice big glass of red, some dairy-free ice cream and having a binge session streaming the latest sci-fi thriller to get me hooked.
"Jade our coordinator on the day was brilliant! She was so organised and made me feel relaxed about the day. She had to deal with intense wind, last minute ceremony location change and a blackout! But she never looked rattled and handled it like an absolute pro."

Bridget and James