| Wedding Coordinator | Our Positive Vibe Girl | Pina Colada Lover |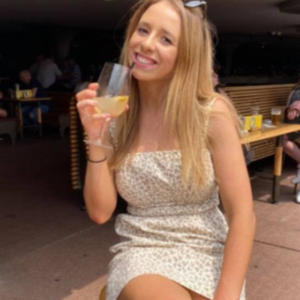 About Elise
Any kids or pets?
No kids or pets, but have 5 beautiful nieces.
What is your favourite place in the world?
Home. But would love to go to Paris, Greek Islands and New York.
What is the best concert you ever went to?
Takeaway night….what's your go-to fav food?
Thai Food – Chicken Pad Thai.
Early bird or night owl?
What energises you?
Surrounding myself with happy, positive people who know how to have a laugh. And coffee.
Whats something you saw recently that made you smile?
Ask anyone and I'm usually always smiling, but recently watching my brother get married was a very happy moment.
Whats your fav way to unwind after a busy day?
A hot shower/bath, or catching up with friends for dinner or a drink.
What can we find you doing on your day off/what is your perfect day?
Sitting in the sun at the beach, and finding a great view to sit and have lunch. Then getting dressed up to go for dinner and finishing the night off with a boogy!
Any hidden talents or party tricks or something you are good at (eg netball, juggling, beer pong champion, folding washing, baking cakes etc)?
I can sing-a-long to a very wide variety of songs and can quote pretty much all of the TV series Friends.
Fav TV Series you are watching(or latest fav movie)?
Fav TV Series is Friends & Favourite movie is Titanic.
Go to coffee or tea? (eg skim latte)
100% coffee.
Cocktail preference?
Pina Colada.
Fav sport/activity as a kid (eg dance classes, climbing trees, soccer)
Netball was always my sport whilst growing up and did dancing as well. Now I play in a mixed Oztag comp.
Your fave thing about coordinating weddings?
Helping couples achieve their dream day and seeing so many different ideas and styles come together to form something so beautiful.