"Hi Zoe and Vanessa,
Thank you so much for everything ! The ceremony and reception was set up so beautifully and you knew exactly what we wanted and put it into place. Thank you Vanessa for all the hard work in organising the hire and putting together all the information and contacting all our suppliers.
Thank you Zoe for taking complete charge on the day directing Matt and I where to go and what to do. Can't explain how happy we were with everything!
Lots of love,
Matty and Lizzie "
Lizzie and Matt, On the day set up and coordination, full styling and décor hire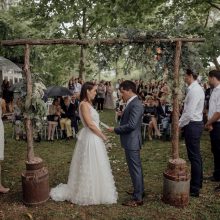 "Vanessa made organising our wedding a breeze. She remembered every detail, touched base with all the suppliers and had some fantastic ideas throughout the entire process. On the day Vanessa and her team helped make the day run seamlessly – she did all the little things that I didn't want to have to ask the guests to do, like turn on the lights, move chairs, refill the bar, etc. It would not have been the same without her there."
Jess and Erik, Brogers End, Kangaroo Valley wedding, part planning and on the day set up and coordination
"From the moment we engaged you, you have been so diligent and thorough on every detail. Even though we only hired you for services on the day, you went completely above and beyond to make sure everything was covered and we were well prepared for the day. It all came together as we planned and it was even better than we imagined. I had multiple comments in our speeches and from friends / family saying how organised I was, and I felt like saying it was all due to you! Thank you so much for all of your help – I could not have done it without you!
As soon as Zoe arrived, I was able to relax (apart from the nerves!) and felt so relieved she was there to make sure everything ran smoothly. Despite the 42 degree day, she was a consummate professional and ran around outside all day making sure everything was set up. Although some of the plans had to change due to the high winds, Zoe got on and did it all with very little guidance from me. She was around making sure everything was ok but also blended in and I mostly didn't notice she was there.
Thank you so much to you both – I will be highly recommending your services to all of my friends!"
Hayley and Henry, Melross Farm Wedding in Kangaroo Valley, 12 hours set up and coordination package