How much 
alcohol 
should you buy for your Wedding?
We sat down recently to Jess from Henry Clive Caravan Bar to discuss all things wedding-drinks! She was a wealth of knowledge, so make sure you check out our podcast on this topic- it's a much -asked question!
Here are some tips from Henry Clive below to help you with your decision;
"Our guideline to how much alcohol you should purchase for your wedding/event assumes that every guest will have 2 drinks in the first hour & one drink every hour after that.
If you know your guests are heavy drinkers then you could assume 4 drinks in the first hour and one drink every hour after that.
Then split your guest list into wine & beer drinkers.
Using the assumption above you would work out how many drinks a guest will have during the bar service timeframe and then multiply this by the number of guests that will drink wine or beer."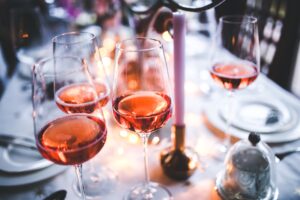 Scenario
Guest list: 100 (moderate drinkers)
Bar service duration: 5 hours
Wine drinkers: 50
Beer drinkers: 50
Using the assumption 2 drinks in the first hour and 1 drink every hour after that, we can work out that each guest will have 6 drinks within the 5-hour bar service.
6 drinks x (50 wine drinkers) = 300 drinks
You will get roughly 6 glasses per bottle of wine & champagne so we then divide 300 by 6 to give us the number of wine bottles we need to purchase = 50 wine bottles.
If you think 20% will drink red wine and 80% white wine then you would purchase 10 bottles of red & 40 bottles of white.
You would do the same calculation for beer drinkers however you would divide total drinks by 24 which will give you how many cases of beer you will need to buy.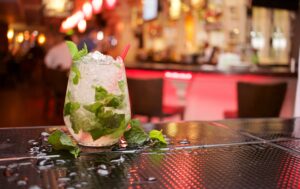 Always remember it's better to have too much than too little! A lot of our local regions don't have anything open later at night, so best to not run low!
Some beverage chains will allow a part buyback service for unopened cases, so check in on this and use to your advantage.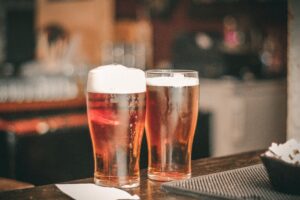 Henry Clive Caravan Bar is a classic caravan bar that oozes elegance, class & sophistication. The Henry Clive Crew will arrive on site to your wedding or event & take care of everything bar related for you making sure your guests are well looked after.
 

Henry Clive also offers a range of indoor bar options that are just as unique as our caravan. Get in touch & let us take the stress out of the bar work for you whilst creating an atmosphere & vibe your guests will be talking about for years to come!
www.weddingandeventcreators.com.au