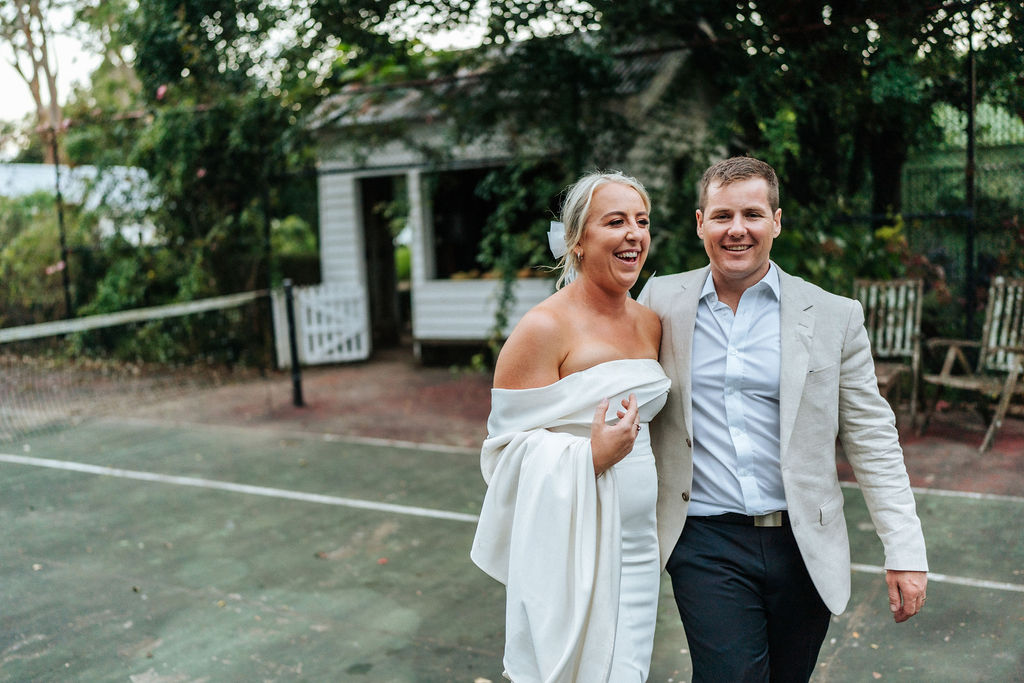 Real Wedding; Natalie and Daniel @ Merribee Gardens
About You Two;
Now, How did you two meet?
Dan and I met the old-fashioned way through a friend. Dan at the time was doing fly in and out work. Through a case of mistaken identity, he assumed I was someone else and we got chatting. We hit it off straight away and for that week he was home we went out on a few dates. He then went away for his 4 weeks away roster and we stayed in contact and zoomed in on virtual dates and chatted over the phone. After that, it became our new normal.
Who popped the question and how did it happen?
Originally, we were meant to go to Vietnam, but old mate COVID spoiled that plan. We then went and did a trip out west NSW. Dan said it wasn't the right time – so at this point the ring had been around for a while. Dan suggested on a Sunday afternoon if we go into Wollongong Lighthouse for a walk with our dog Brydee. As we were walking I turn around and Dan was on one knee, I didn't even give him a chance to ask, I blurted out "Yes" before he had a chance to say anything. This was special as we had our first date there. 
Why did you choose your venue and how was the venue choosing process?
I am from New Zealand and have always wanted space and from the weddings, Dan and I have been together he felt the same. We went and looked at a few further South and also in Kangaroo Valley. Our last venue was Merribee. The minute I saw it, it felt like I was back in New Zealand in a park from home called Queens Park in Invercargill. It was beautiful and the owners were so lovely and accommodating that it felt like a no brainer. We wanted a venue that had enough space where we could transition from different parts of our wedding throughout the day, guests have commented that it was an awesome venue to explore as they waited.
Quick Fire Questions;
How many wedding guests did you have?
Originally 120 (thanks COVID travel restrictions) but we had 80 on the day
Sit down of Cocktail Style?
Sit down
What month?
March 

Planning The Wedding;
Was planning the wedding stressful or did you enjoy the journey?
The beginning of the planning stage was fun, COVID was somewhat out of the picture. The only stress for us was the thought of restrictions hindering our day, like no dancing, mask-wearing etc. We were very fortunate that we were just after everything got lessened. Other than that, we had a really cruisey experience. 

How involved were you both in the wedding planning, did one of you take more of the lead on certain aspects than others or were you both equally involved?
Dan and I sat down and went through what we were both comfortable paying. What we thought was a realistic budget got a little smashed when some of the invoices came in. We chatted about what was important to us on the day and from there made the call about certain aspects. Once the big things were decided, I (Nat) took the logistics and admin side over. Dan works underground for 12 hrs a day, so it was not feasible for him to try and respond to quires when he didn't have the time. 
What was the top couple of non-negotiables or important must-haves at the wedding for you both?
It was important to both of us to be actually spending time with our guests, not stuck sitting at a bridal table listening to hours of speeches or stuck doing endless portraits. We had guests who had flown interstate to be there so it was important to actually spend time with them, and enjoy the moment. The food, booze and band were the other big things for us. We wanted everyone to just have an awesome, relaxed and joyous time, which it was. 
Tell us about your dress and that dress-finding process?
I went to a bridal fitting down here in the Illawarra and that was a tad overwhelming for me. I thought I knew what I wanted and nothing was really working with my shape as I had originally thought. Amy from Love Marie was amazing. She helped me pull a few options, stuck within my budget and I tried on a style I never wear and it was perfect. I then went to Get Dressed in Shellharbour and hired the Bronx & Banco Mademoiselle dress. I wanted to be able to dance and enjoy the band and cocktails without the fear I would get caught up in my amazing train. 

What sort of theme, vibe or style did you go for?
We went with Black Tie and then from there, I fell in love with the classic look. When it came to the look of the day, Dan gave me free rein which was a lot of fun. I checked in with him about my ideas and he supported whatever I picked or if there was something he wanted he mentioned it and we added it (like the chopper). I wanted pops of colour in a pastel palette and that's where our florals came into it. We wanted to change it up a little and steer away from tradition for the most part. 
On the Day;
How did you both feel wedding morning?
Nat: I think we were both excited. I was actually the most relaxed I had been that month as I knew it had all been taken care of. It was really nice to have the opportunity to walk out at different parts of the day and see all the hard work of everyone involved come together.
Dan: I went Go carting before we got dressed and met the photographer, so I was feeling very sore. 
What was the best part or moment of your day?
Nat: It is hard to just pick one, all our favourite people were together. We live-streamed it for my family in New Zealand and though they were not there they were all together celebrating also. The all-girl Champagne pop and also the 45 mins we had between speeches and dinner where everyone went to our chill-out are in front of the barn, drank cocktails and Dan and I got the chance to mingle.
Dan: The whole lot was amazing, but when the rain came down at the end of the night and we stayed out and the band kept playing. 
Anything you would change about your wedding or anything that didn't go to plan?
The only thing would be if those in New Zealand were there but unfortunately due to the travel restrictions, my sister and family were not able to be in attendance. I think you are in such a bubble of excitement and love that if anything were to happen it would be irrelevant as you are enjoying the day and the [people you are with. 
Are there any rituals, sentiments or traditions you incorporated into the day?
Having our dog Brydee present throughout the first half of the day was important to us and my mum was all over that as well as our awesome pet chaperone. We kept the traditional father-daughter dance and Dan and I had the first dance. We changed up our witnesses and did a lucky dip which was a lot of fun. We really wanted to get rid of the formalities that waste time and spend it with everyone. We added 20 mins between our portraits and entering dinner where our bridal party went up into the Silo and had a few cocktails and just took a minute. We could look down over the whole venue and we were watching everyone make their way into the barn for dinner. 


After the Wedding;
Describe newlywed life in a couple of words?
We were enjoying every minute of it, Dan organised our Honeymoon to Fiji where spent 2 weeks. We received our wedding pictures which were amazing and then our videographer Eddie from Ripple Weddings absolutely nailed it with the Video. Once we got home, it was back into a normal life with Dan now working away for two weeks and home for one and I am back working in the classroom. It is nice being back into our normal routine and the daunting project that is a wedding is over. 
Best investment or money well spent on the wedding that you made?
Besides you guys behind the crazy spreadsheets that were totally worth it, Julz on the day was AMAZING! Our florals were better than what I had pictured in my head, Lauren from Fleurescent was so patient with me as I tried to explain my vision. Our videographer was also the best gift my parents got us for our wedding. 
Budget-over, under or what you estimated?
We did pay more for our live band than say a DJ or a duo but we wanted a full-on party situation and the White Tree Band was so worth it, they were interactive and came down onto the dance floor and just got everyone into the party vibe. It was so worth it and still what people talk about today. I managed to do a bit of DIY hunting and we were just over what we wanted to spend, but are happy as our day was well above our expectations.
Here's what Natalie and Daniel had to say: