| Wedding Coordinator | Dog Lover | Epic Cheeseboard Creator |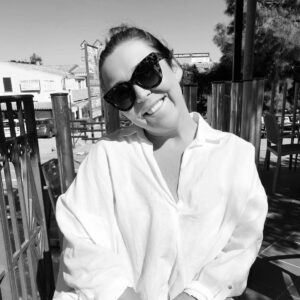 About Megan
Any kids or pets?
Yes, two dogs Moose and Pip
What is your favourite place in the world?
The Greek Islands
What is the best concert you ever went to?
This is tough! Coldplay or Dermot Kennedy
Takeaway night…. what's your go-to fav food?
Japanese
Early bird or night owl?
Early Bird
What energises you?
Coffee and sunshine!
What's something you saw recently that made you smile?
I watched love on the spectrum – so heartwarming
Whats your fav way to unwind after a busy day?
A cheeseboard, and a glass of wine and good movie with my partner and pups.
What can we find you doing on your day off/what is your perfect day?
Perfect day would be waking up in a nice hotel by the beach, having a big breakky and a day of swimming, sunshine and good company ending with some seafood.
Any hidden talents or party tricks or something you are good at (eg netball, juggling, beer pong champion, folding washing, baking cakes etc)?
I make the best cheese toastie.
Fav TV Series you are watching (or latest fav movie)?
Recently watched Mare of East town and loved it! Anything with a bit of a twist in the storyline and I'm hooked.
Your most used 2 emojis?
😉 and 😊
Go to coffee or tea?
Strong Flat White
Cocktail preference?
Margarita
Fav sport/activity as a kid?
Hockey & building cubby houses
Your fav thing about coordinating weddings?
I love being creative, watching a space come together and seeing the final end product and the happy faces!
"The wonderful Meg was our Coordinator for the day and she made sure everything run on schedule and to plan. She was absolutely brilliant. Thank you Meg. I could not recommend WEC more highly, they made our day perfect! Thank you so so much!"

Jade and Marcus