| Wedding Coordinator | Stylist | All Rounder |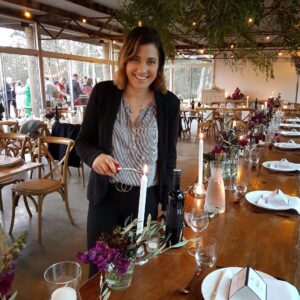 About Sarah
Favourite part about being a wedding coordinator?
Seeing the blank canvas at the start of the day then seeing it transform, when the room fills up with people and everyone's face is glowing with happiness as they are about to witness two of their loved ones get married.
All the decor and flowers are beautifully arranged and the day looks perfect.
Hot styling tip/Decor you are loving this season?
Simple is best, I love the styling and sometimes I get so excited I want to use everything but when you put it together as long as you have a few beautiful statement pieces the rest is best kept simple
What I love!
I love getting outdoors I'm a big summer girl! The cold and I don't really like each other much!! I live on a beautiful farm with lots of animals, riding my horse is my 'me time' and even better when I finish off with a glass of red and a cheese platter. Just like any good wedding!