10 Wedding Reception Ideas That Haven't Been Overdone
When planning your dream wedding reception, it's only natural to want it to be unique and memorable. While classic wedding elements like flower arrangements and tiered cakes are timeless for a reason, there's also room for innovation and personalisation. To help you create a celebration that stands out, here are 10 wedding reception ideas that have yet to be overdone.
1.   Themed Food Stations
Imagine walking into your wedding reception and instead of traditional assigned seating, you and your guests are greeted by an array of themed food stations. Each station can represent a different culinary adventure — a sushi bar where a skilled chef creates custom rolls, a taco station with various toppings to choose from or a gourmet burger stand offering mouthwatering sliders.
This approach allows your guests to customise their meals to their liking, and adds an interactive and social element to your reception. It's an excellent way to cater to different tastes and preferences, ensuring everyone leaves with a satisfied palate.
2.   Build-Your-Own Cocktail Bar
A build-your-own cocktail bar can be a creative aspect at your wedding, allowing guests to become mixologists for the evening. A well-stocked bar with various spirits, mixers, fresh fruit, herbs, and garnishes is a fun and interactive addition. Guests can choose their favourite base liquor, mix it with assorted juices and sodas, and add a personalised touch with herbs, fruit and garnishes of their choice. It encourages socialising as they collaborate and experiment with different concoctions while crafting their signature cocktails.
You can even include mocktail options, allowing guests to get creative by sticking to the classics or inventing their own. This way, everyone feels included and can join in on the action.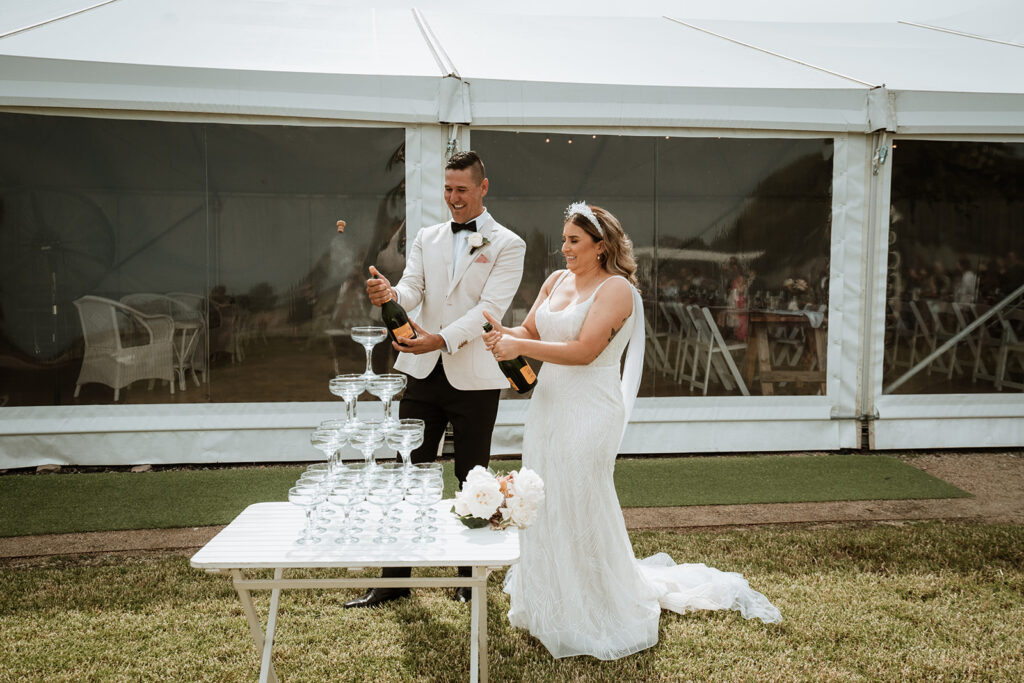 3.   Interactive Entertainment
Consider incorporating interactive entertainment into your wedding reception to keep the energy high and guarantee your guests have a blast. A caricature artist who captures your guests' enjoyment with witty drawings, DIY craft stations, aerial performers, magicians or even fire dancers to keep your guests engaged.
Additionally, a photo booth with various props allows guests to create bonds and exciting memories. It also gives the guests a keepsake to take home and remember your wedding.
4.   Silent Disco
A silent disco can offer an unconventional twist. Instead of a traditional DJ or live band, opt for giving your guests a choice of music with a silent disco. Each guest receives wireless headphones with multiple channels, allowing them to switch between different playlists. It's a fun way to cater to diverse musical tastes while keeping the dance floor alive.
5.   Garden Games
If your wedding is outdoors under an elegant wedding tent or marquee, set up a variety of garden games like giant Jenga, cornhole, croquet or ring toss. These games entertain guests of all ages and add a playful atmosphere to your reception.
Consider adding arcade games for a retro and nostalgic trip down memory lane. Think of classics like Pac-Man, Space Invaders, Pinball machines and Donkey Kong. You can also include multiplayer games for some friendly interaction. These games are a great way to infuse joy and interaction into your celebration.
6.   Fireworks Display
End your wedding reception with a bang — quite literally — by arranging a breathtaking fireworks display. Fireworks make for the perfect "wow" moment and an unforgettable grand finale to your special day, leaving your guests in awe and creating a dazzling memory. It can also symbolise a meaningful and spectacular send-off as you begin your journey as a married couple.
Be sure to take the necessary precautions, like keeping your distance and wearing protective gear. Safety comes first — it's best to avoid a disastrous end to your special day.
7.   Wise Words
Add beautifully decorated jars to each table, with small pieces of paper and colourful pens. Invite guests to write down their words of wisdom, marriage advice or heartfelt messages to the newlyweds and place them in a jar.
It's a touching and interactive way for loved ones to share their guidance and well wishes for you and your partner as you begin your new journey together. These little notes of support become a cherished keepsake, providing inspiration and a reminder of the love surrounding you on your big day.
8.   An Eccentric Cake
Consider a cake that's not your ordinary tiered confection but something quirky that reflects your unique personalities or shared interests. Perhaps it's shaped like a stack of books or a playful representation of your favourite hobby, like traveling or hiking. Maybe it's covered in vibrant colours, whimsical patterns or even funky cake toppers that tell a story. If you don't like standard cake flavours like chocolate or vanilla, have a cheesecake, a macaron tower, cake pops or a selection of mini desserts instead.
If you're not a cake lover, choose an alternative like a display of donuts. Guests can choose from an array of flavours, from classic glazed to adventurous gourmet options like maple bacon or lavender honey. Arrange them in a captivating tower or a charming donut wall. It's a delicious alternative to the traditional cake that will leave everyone with a satisfied sweet tooth and a sugar high.
9.   Live Painting
Hire an accomplished artist to capture the essence of the evening as it happens. A live painting can bring the couple's emotions, the guests' expressions and the event's atmosphere to life. This addition is a unique, personal experience and a living memory you can hang in your home to tell the story of your celebration.
10.   Interactive Guestbook
Move beyond the traditional guestbook and opt for an interactive alternative that encourages your guests to make their mark. Consider options like a jigsaw puzzle where guests sign individual pieces, creating a collective work of art or a thumbprint tree where each guest leaves a colourful thumbprint as a leaf.
Stand Out With a Unique Wedding Reception
Remember — your wedding should reflect your personality and unique love story. These creative ideas can help you plan a reception that stands out and leaves a lasting impression on your guests. So, embrace the opportunity to make your wedding day truly one-of-a-kind. It's your big day and you should include any unconventional twist that makes it special for you.
Author – Cora Gold
Cora Gold is a wedding enthusiast with over six years of experience writing about trends, traditions and more. She is also the Editor-in-Chief of women's lifestyle magazine, Revivalist. Connect with Cora on LinkedIn, Pinterest and Twitter.