How to Plan for Extreme Wedding Weather Conditions
Let's chat about something very on topic for the last month or so and that is our weather conditions on the South Coast.
We have been having some devastating bushfires here in Australia which have been causing so much angst and stress to everyone. I had a call today from another hire company that was unable to get their products to a wedding tomorrow and were calling for our help. I have also been following countless beautiful wedding venues we regularly work who are trying to protect their properties.
Without putting a damper on things, it's important to sometimes be super real and chat about the realities we all need to consider when planning a wedding.
It's important to chat about having a wedding back up plan and also the general realities of considerations for the world we live in. If you have plans, you are more prepared for the wedding to face things that are out of your control and also be mentally prepared to face facts if needed.
I don't mean you need to have a 50 step process, but having a top level plan for some potential possibilities and a ballpark idea is a really great way to be organised and prepared for anything that may come your way.
Let's run through a couple of things to think about by starting with the recent bushfires.
As I said, the devastating impact some bushfires in NSW and across the country have had on our environment is next level at the moment. And unfortunately, it's only going to potentially get worse as the summer hits its peak.
Unfortunately, this week many weddings and suppliers have been heavily impacted by not being able to reach venues, roads being closed, smoke issues and hazardous air quality.
Have a little think about your venue, Is it in a bush fire prone area? What surrounds it? How easy is access in and out? Are you getting married in the heart of January during peak fire season? What is the venues fire plan and evacuation procedures? Other things to think about are total fire bans, this means no open fire pits, BBQs and candles along with some catering options like a spit roast may need to be reconsidered.
Then there is the opposite so extreme rain or flooding, again something we are seeing more and more of at certain times of the year in particular. Things to think about are is your venue is located on a riverbank or close to water? Is it prone to flooding? Maybe it's on a rural road with some small creek crossings which would be difficult for people to get in and out of in regular cars if it floods. Then big picture, if it does look like severe rain around your wedding date, look at the realities of back up plans. What can you do to make guests more comfortable at the wedding? Looking at all aspects from when they arrive, during the ceremony/evening and through to leaving to make sure you have covered everything.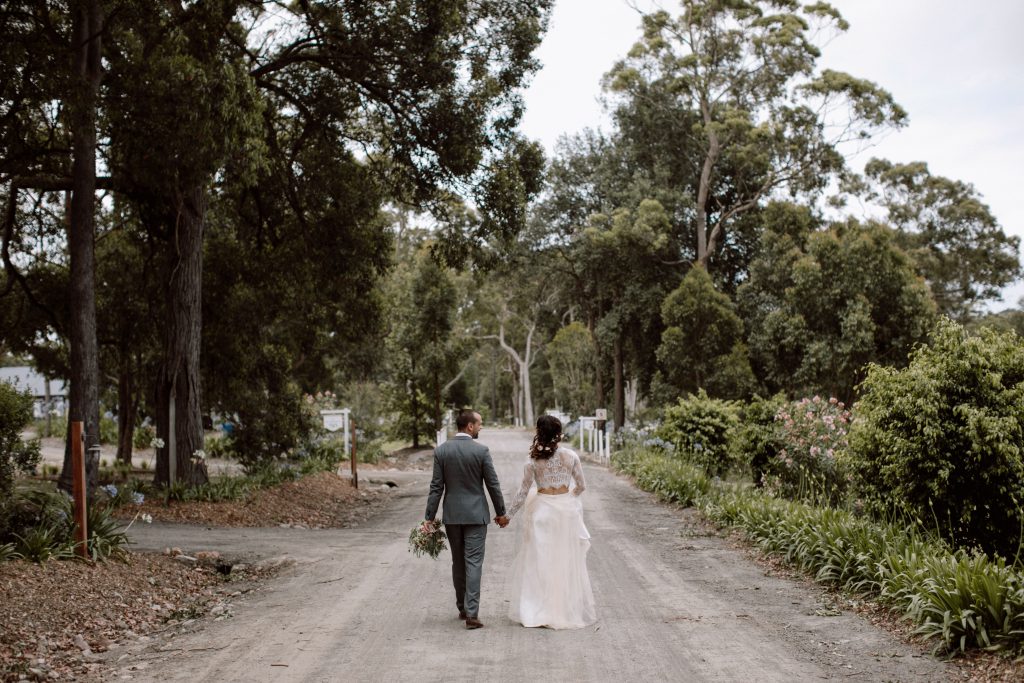 For severe unrelenting rainy days and yes, we have had quite a few examples of what we considered in the past were making sure you consider each key space of your wedding so ceremony, pre drinks, reception and any breakout spaces like dance floor. Also thinking about walkways between your spaces. If there is a toilet area 20 metres from the main reception, guests will get wet walking between the spaces, or maybe your caravan bar is located 10 metres from the pre-drinks space.
Consider relocating areas or readjusting your original set up plan to accommodate for this or look at hiring marquees or setting up awnings or pop-up pagodas to cover these spaces to make them easy to use and guests more comfortable. Having buckets of umbrellas at key spaces where guests do need to go out in the rain is helpful too. We had a wedding a year or so ago where it was insane rain and we really had to think about mud issues on a property getting into the marquee floor and making it slippery so we put down some non slip mats on the main entryway and also over patches of dirt to help prevent this. We also had heaps of towels on hand to wipe and clean surfaces as we went.
It's important to consider the catering team too, they have to walk sometimes from a kitchen prep space some distance with expensive hot food to considering that as an important walkway area to be covered and allowing them extra prep space is important, I have seen some of our amazing catering teams literally have 2 or 3 extra staff to hold umbrellas over the wait team and their food to the reception area before!
On to extreme heat or cold…
The same plan of attack works by having a bit of a ballpark plan if your wedding day looks like extreme hot or extreme cold conditions, well to be honest doesn't to even be extreme, just a hot or a really cold day. If it looks like a really hot day, what will you need to adjust or change to make it comfortable for your guests and suppliers. Maybe it's putting a list together of things like extra water stations, buying additional ice for the day, more umbrellas or shady areas, being realistic about changing your outdoor ceremony to indoors, hiring fans and so on.
For cold conditions looking at the basic comforts of your guests, a cold or uncomfortable guest is not going to be able to enjoy themselves so making sure you think about things like hiring extra heaters for both indoor and outdoor spaces, blankets and considering hiring a marquee for pre-drinks that you can put the sides down to keep guests warm rather than a four-degree day mingling in icy cold winds.
Instead of thinking of these things last minute and either not knowing what you need and also not having factored these things into your budget can create added stress and effort than there needs to be by having a backup plan in place from the start, on a just-in-case basis.
From the outset I am not saying change your whole wedding day to cover everything and I'm certainly not saying to be a nervous Nelly and have a function centre reception instead of a rustic bush wedding because you are worried about fire. I am just saying to be aware and considerate of possible scenarios and do your research and prepare backup plans in advance
On that note, another key thing is to consider taking out wedding insurance. I don't endorse or recommend any particular company, you can look them up online but maybe check the inclusions. Do they cover natural disasters, bushfires, flooding and other similar things? Familiarise yourself with what they do cover. A wedding is a huge investment and you need to know you are covered.
To subscribe to the Let's Talk Weddings podcast, click here and don't forget to leave a review on your podcast app.
You can also listen to this podcast episode here:
Episode 34 – How to Plan for Extreme Wedding Weather Conditions