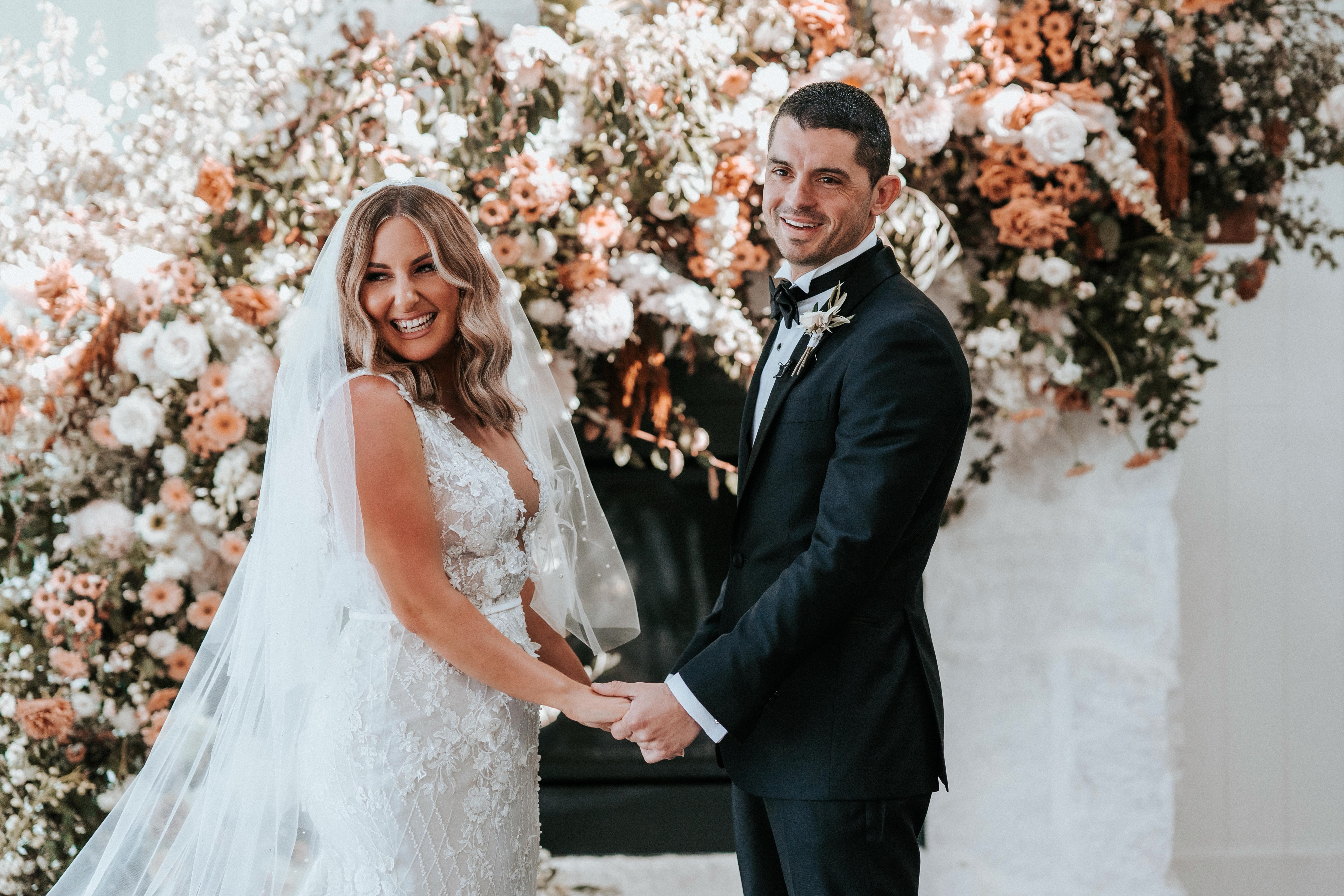 Real Wedding; Sarah and Jason @Seacliff House
About You Two;

Now, How did you two meet?
Oh the infamous meeting story. We met in Thailand back in 2010. Jason was there with his friends, and I was with a group of mine. We met at the pool bar of the hotel we were staying at. A few Mai Tai cocktails and 11 years later here we are haha
Who popped the Question and how did it happen?
We were on holidays in the Philippine's when Jason suggested we go for a walk along the private beach at our resort. I was in a complete buffet breakfast coma, and had zero clue what was to come. He hid it very well! We spent the rest of the day Facetiming our friends and family, drinking cocktails and celebrating just us two. I found out that Jason had got the ring months prior and asked my Dad for permission on Father's Day, a couple days before we left for the holiday which was very sweet.
Why did you choose your venue and how was the venue choosing process?
We wanted a venue that we could have both the ceremony and reception at. We both also were not so keen on outdoor ceremonies, so the barn at Seacliff was perfect to convert in a church style ceremony. It was the very first and only venue we looked at, and immediately fell in love with the gorgeous view. They also had a last minute cancellation on our 11 year anniversary date, so we knew it was the one!

Quick Fire Questions;
How many wedding guests did you have?
130
Sit down of Cocktail Style?
Sit down
What month?
March 2021

Planning The Wedding;

Was planning the wedding stressful or did you enjoy the journey?
I really love organising events, so I enjoyed every moment of the wedding planning. I was probably a little too laid back for the most of it though, as quite a lot crept up on me last minute. If I can give one piece of advice to future brides, its DO NOT wait until 2 weeks before the wedding date to do your seating plan. It was by far the most stressful part of the entire process. Start immediately!
How involved were you both in the wedding planning, did one of you take more of the lead on certain aspects than others or were you both equally involved?
Once we decided on our suppliers I definitely took the lead, but I was more than happy to. Jason probably wishes he was more involved to keep me on track with the budget haha budget schmudget I say!
What was the top couple of non-negotiables or important must-have's at the wedding for you both?
Obviously food and music is high on everyone's priority list, but so was every other aspect of the day e.g. plenty of drinks, good lighting, no boring bits, lots of dancing. We wanted it to feel like it was a big party more than anything.
Tell us about your dress and that dress-finding process?
I had no idea what dress I wanted which probably made it hard at first, but it also made it lots of fun trying on different styles! I was almost going to go down the custom made route, but then I found "the one" at George Elsissa. I loved my dress! I did end up getting my veil custom made at Madam Tulle which was beautiful.
What sort of theme, vibe or style did you go for?
The styling was inspired by all the destination weddings I had stalked on Pinterest lol My family is Italian, so I wanted a Tuscan vibe to the wedding without going overboard on a full theme. Garnish Catering did a beautiful Italian style dinner, our cake was a traditional Italian Millefoglie and Ivy Lane incorporated Olive branches and terracotta colours into our flowers. Our overall styling remained fairly classic and romantic I think. Seeing everything come to life was an incredible feeling. I just kept saying "oh my god" over and over again, and was blown away with all the florals and how everything came together.

On the Day;
How did you both feel wedding morning?
Once we handed over everything to our coordinator Julz the night before it was such a weight lifted off our shoulders, so we were both relaxed. She was amazing. I was actually probably a little bored whilst all the bridesmaids and mum were getting their hair and makeup done haha
What was the best part or moment of your day?
Aaahh so many. Having all of our family and friends together and seeing them having a great time was one of the best feelings. Also seeing the looks on their faces with the surprise band at the ceremony was priceless. I really wish I could relive that again.
Anything you would change about your wedding or anything that didnt go to plan?
A couple minor things didn't go to plan, but you don't sweat the small things. We are just so thankful that our day went ahead, considering the amount of people who had to cancel or make huge adjustments with covid restrictions. We are one of the lucky ones for sure!
Are there any rituals, sentiments or traditions you incorporated into the day?
Yes definitely –  we got to do some traditional Italian and Macedonian dancing at the end, accompanied by Limoncello and Rakija which kickstarted the dancefloor AND peoples hangovers.

After the Wedding;
Describe newlywed life in a couple of words?
Even though we have been together for 11 years, it's weirdly brought us closer. I'm not sure when I'll get used to calling Jason my husband though – sounds so adult!
Best investment or money well spent on the wedding that you made?
This is a hard one to pick. All our suppliers were incredible, I don't think I could pick just one aspect. Booking the pack down service with you guys the day after the wedding was a good choice. I don't know how other couples would do it themselves. I could only guess they didn't throw back copious amounts of espresso martinis the night before like I did!  
Budget-over, under or what you estimated?
Over, but worth every single god damn dollar and would do it all again in a heartbeat.