Real Wedding; Samantha and Chris @Worrowing Estate
About You Two;
Now, How did you two meet?
We went to high school together, so technically we don't remember the first time we met, but recently I found some cute sketches of Chris in my art diary from Year 11! We were friends first, and got together later when we were 23, at a musical festival.
Who popped the Question and how did it happen?
Chris popped the question while we were bushwalking in the Royal National Park. I was completely taken by surprise – we'd just been for a dip because it was absolutely sweltering and we'd left our bags unattended and everything. I definitely didn't realise he had a ring with him! We were on our own on a beautiful forest path, super sweaty and sunscreeny and dirty, and I absent-mindedly mentioned that it would be such a nice place for wedding photos as it was so serene. Two seconds later he said, "Check this out," very casual, and when I turned around he was just standing there with the ring. I cried for about forever afterwards haha. Somewhere in there I said yes!
Why did you choose your venue and how was the venue choosing process?
We probably spent way too much time choosing a venue, on reflection. We made a very elaborate spreadsheet comparing absolutely everything, for about fifty different venues – anything within 2 hours of Sydney, really! Eventually we narrowed it down to a few favourites, and Worrowing was just so beautiful and relaxing when we did the site visit, plus had lots of accommodation on site for family and friends. We were really happy with our choice!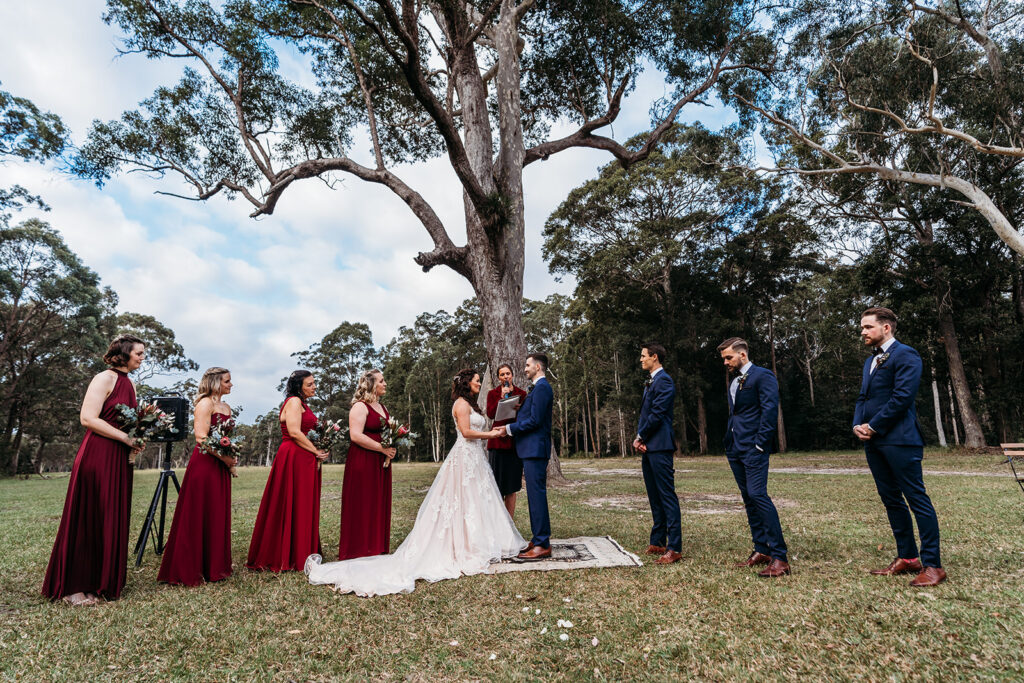 Quick Fire Questions;
How many wedding guests did you have?
96
Sit down of Cocktail Style?
Sit down
What month?
May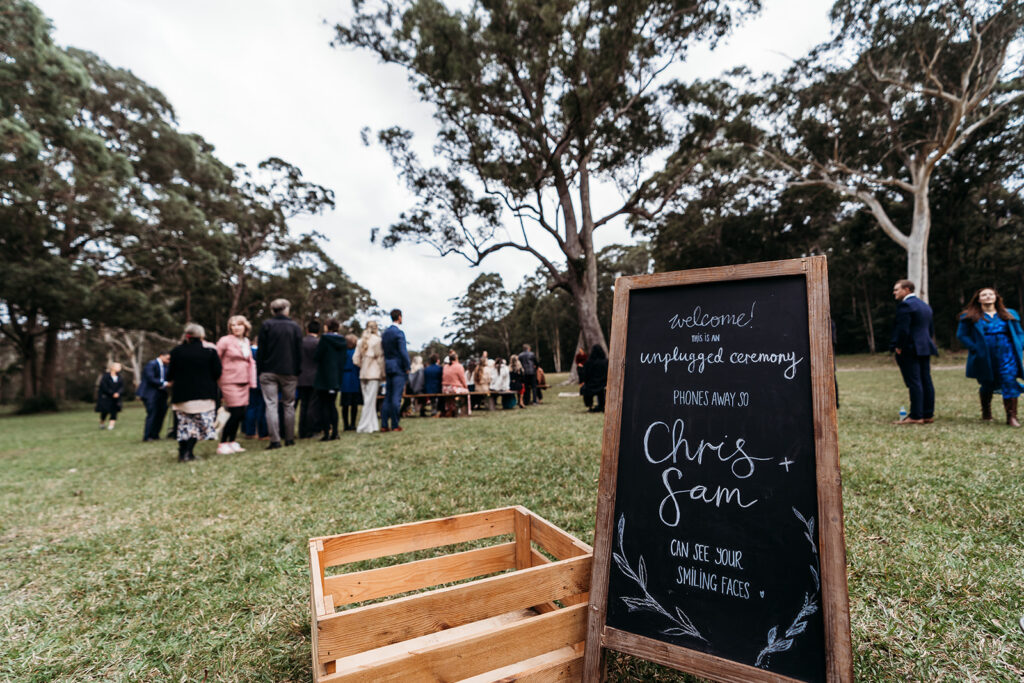 Planning The Wedding;
Was planning the wedding stressful or did you enjoy the journey?
A bit of both!
How involved were you both in the wedding planning, did one of you take more of the lead on certain aspects than others or were you both equally involved?
Before Covid, I really reflected a lot on how much pressure women stereotypically have put on them, as opposed to men, when wedding planning. I'd get millions of questions about the engagement, the wedding, even kids, every week, and Chris would barely get any! After Covid hit and we had to postpone, that all changed, and we completely shared the planning process – I don't know how anyone does it on their own, there's SO much to consider. Having a lengthier planning time with the postponement made it easier to focus on the really important things, but Covid also made it quite a stressful process. It took over our lives for the good part of a year, I reckon! Planning one wedding is hard enough – two is even harder! We couldn't have done it without each other – I mean, obviously you need two people for the wedding, but the planning, too!
What was the top couple of non-negotiables or important must-have's at the wedding for you both?
Good food, photographers we connected with, and making a bit of a weekend of it to be able to spend more quality time with friends and family.
Tell us about your dress and that dress-finding process? 
I ADORED my dress, but the dress finding process can be really rattling! I'd like to think of myself as pretty comfortable in my body, but man, did I doubt that I'd ever look good in anything by the third shop! I was genuinely about to give up – pretty dramatic, after only three stores. Everyone was so kind, and so helpful, but it's confronting standing on a stage with a bunch of mirrors everywhere, and all that attention, trying on dresses that are meant to look fabulous but don't actually fit you! When would I ever buy a dress that wasn't my size, for that much money, in regular life? Everyone kept saying 'you'll know when you find it' and I completely doubted them, until I went to Abbey Bridal, with another lovely attendant, and she told me she'd whittled down my very long list to several that she thought would look best on me. I was pretty uncertain, but then the very first one I tried on was the one. I really did feel completely different in it – to be honest, I felt great in the next five I tried there, too, but the first one I kept coming back to. Even after postponing for a year, I was still madly in love with it. The train was much longer than I'd planned, but when else are you going to let yourself be that 'extra', if not your wedding day?
What sort of theme, vibe or style did you go for?
Rustic, bushland vibes.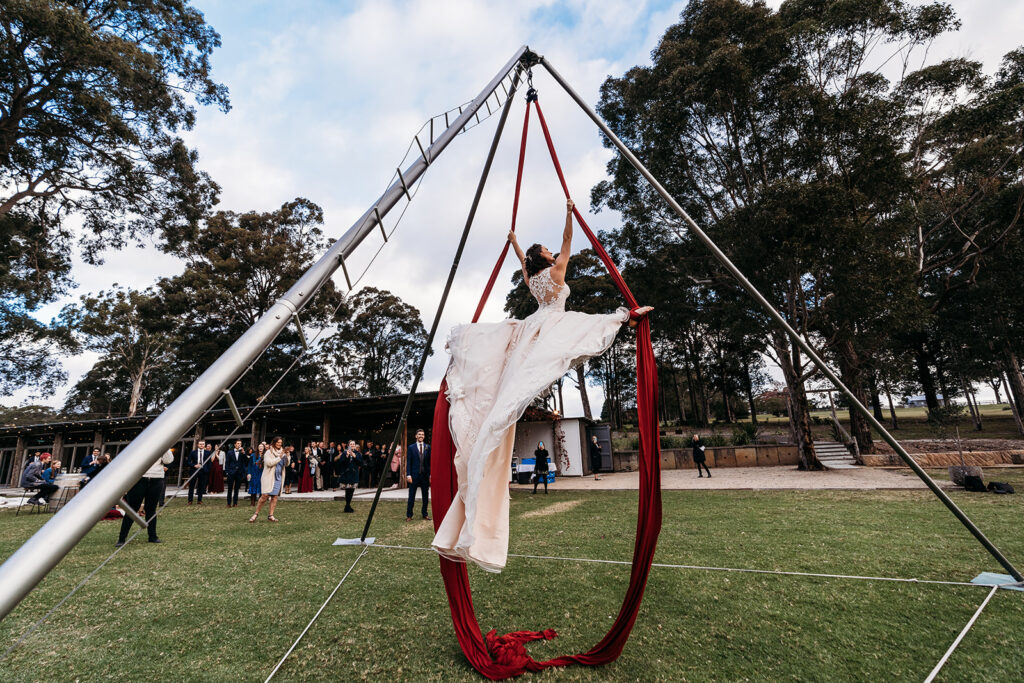 On the Day;
How did you both feel wedding morning?
Chris was calm, I was a little nervous, but both excited, madly in love, and ready for it to finally happen.
What was the best part or moment of your day?
Everything was amazing and I wish I could relive it and the beautiful moments with my loved ones forever, but actually one of my favourite parts was running madly around the venue with Chris and Erin and Erica, our photographers, chasing the sunset and climbing trees and cross-country 4WDing to get those perfect shots! It was so much fun, and they really encouraged Chris and I to just use it as time to bask in each other's happiness.
Anything you would change about your wedding or anything that didn't go to plan?
We loved every second of the day and just wish we could have had more time! If we could do it again we'd probably get a videographer just to capture the moments that you tend to miss on the day, because you're so busy.
Are there any rituals, sentiments or traditions you incorporated into the day?
Nothing in particular, but we wrote our own vows and had a big hand in personalising our ceremony, which our lovely celebrant Sophie was so encouraging with. The happy-tears of all the guests, and number of compliments we received about how it perfectly reflected us as a couple, made me glad we'd spent the extra time on it. It's the most important part, in my eyes.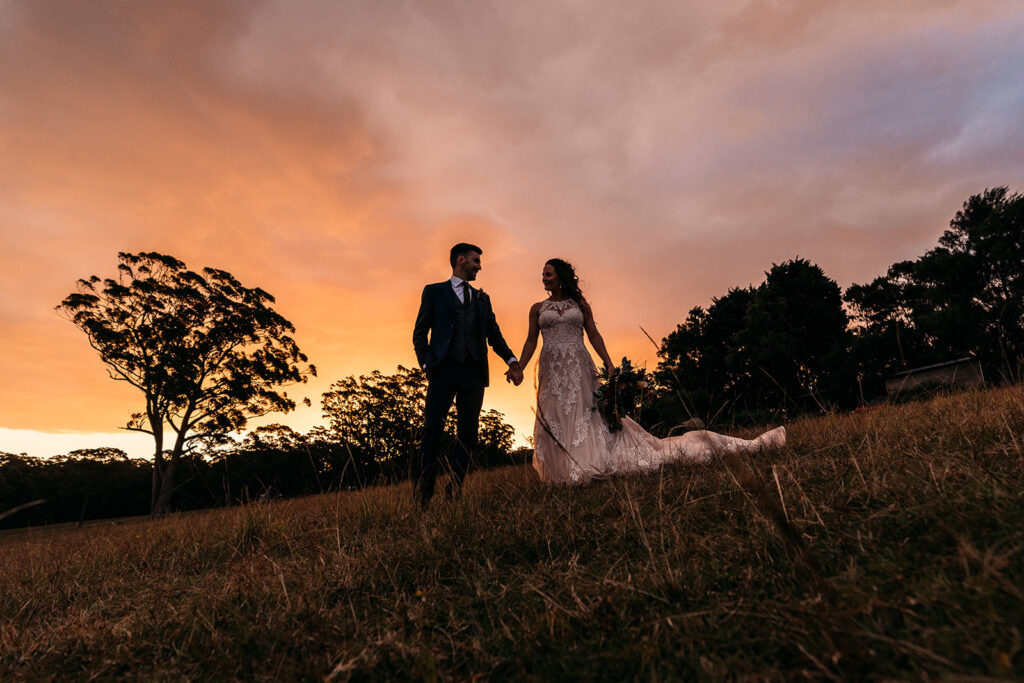 After the Wedding;
Describe newlywed life in a couple of words?
Honeymoons = blissful! Lockdowns  = a real test of the beginning of a marriage! Otherwise, much the same!
Best investment or money well spent on the wedding that you made?
Photographers and on the day coordinator (lovely Jade), hands-down, best money spent.
Budget-over, under or what you estimated?
Oh gawd, SO over. But afterward, no regrets.