Real Wedding; Jess and Guy @ The Cove Jervis Bay
How did you two meet?
We met on New Year's Eve in 2007, shared a kiss at midnight, and then rekindled our love many years later through a mutual friend.
Who popped the Question and how did it happen?
Guy popped the question on our 5th anniversary on top of Mt Wellington in Hobart, Tasmania, Jess and Guy hiked to the top of Mt Wellington in Hobart, the higher we hiked the worse the weather became, as Jess hid behind a rock for shelter at the top, Guy got out his "camera" and popped the question with a glorious Aussie teal sapphire engagement ring.
Why did you choose your venue and how was the venue choosing process?
The Cove was basically the only venue we looked at and we fell in love! We chose it because as soon as we saw it, we had amazing visions of our family (both international, national, and within the state) being together for a 3 day, once-in-a-lifetime celebration. We didn't even explore other options! Though COVID had other plans, and many of our guests could unfortunately not travel from overseas, and with the 100 year floods many guests could not get to Jervis Bay or stay for the full duration either.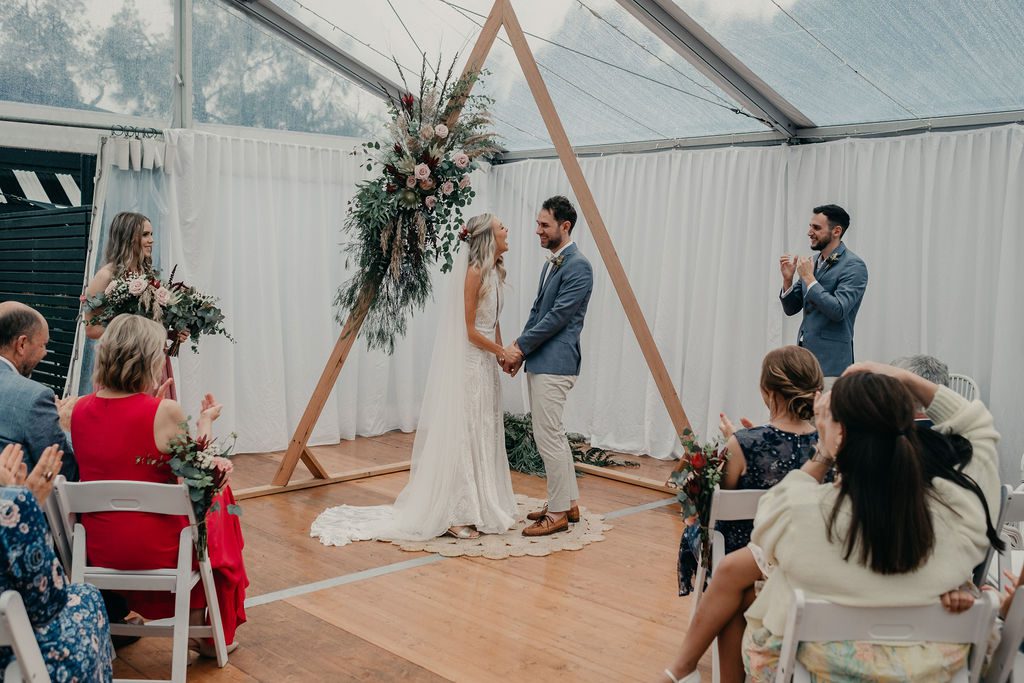 Quick Fire Questions;
How many wedding guests did you have?
In the end we had 87, we started off with over 100.
Sit down of Cocktail Style?
It started as a cocktail and ended as a sit down!
What month?
March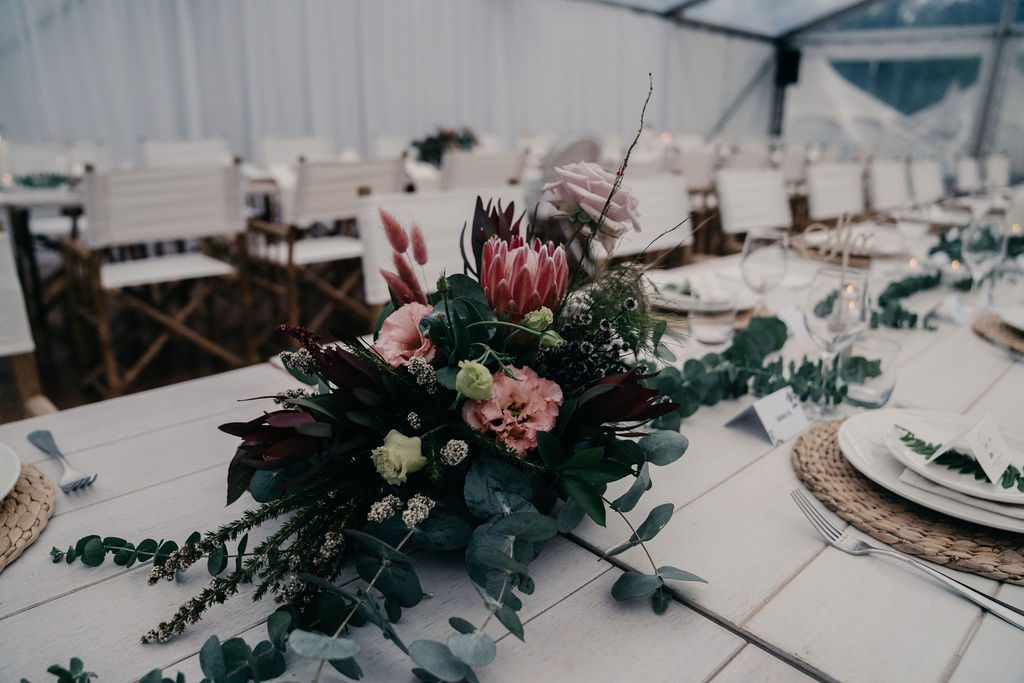 Planning the Wedding;
Was planning the wedding stressful or did you enjoy the journey?
Initially, we loved it, but as it was postponed twice and changed significantly from our initial idea, it became more stressful.
How involved were you both in the wedding planning, did one of you take more of the lead on certain aspects than others or were you both equally involved?
We were equally as involved; Guy is awesome at spreadsheets, Jess had a lot of the vision and together we just threw it together at the last minute.
What was the top couple of non-negotiables or important must-have's at the wedding for you both?
The food had to be good! And our photographer, we invested in both and were so thrilled with our choices. We also wanted a live music aspect and Ben Foxx delivered in trumps!
Tell us about your dress and that dress-finding process?
Jess' family is in Melbourne so she went down and tried on dresses with her mum and sister. She found the "one" but it was wayyyyy over budget, a gorgeous rue de seine silk masterpiece. Jess eventually found the dress on still white (a secondhand wedding dress site) and the gorgeous seller shipped it from Florida! The dress waited nearly 2 years to be worn (thanks covid) and it was the longest diet of Jess' life!
What sort of theme, vibe or style did you go for?
We went with really relaxed, boho and rustic.
On the Day;
How did you both feel wedding morning?
So excited! The Cove put on yoga for us and we started the day with beautiful intentions. It was still pouring rain so we had to make the decision to move our beachside ceremony into our marquee, there was so much going on yet Guy and Jess were zen, focused, unfussed and well and truly ready to wed!
What was the best part or moment of your day?
The ceremony was just stunning! Walking down the aisle, the music and having all our loved ones with us. The dancefloor also was a huge highlight.
Anything you would change about your wedding or anything that didn't go to plan?
In hindsight, although it was our prefect day, a restaurant wedding with everything is taken care of seems like a better and easier choice than the diy option we chose. We underestimated the amount of work that needed to be done and that pushed our budget out of the water.
Are there any rituals, sentiments or traditions you incorporated into the day?
We had a table with photos of our loved ones which was set up so beautifully it brought us to tears and hand blessing ceremony.
After the Wedding;
Describe newlywed life in a couple of words?
Beautifully simple.
Best investment or money well spent on the wedding that you made?
Photography, music, Marquee and wedding coordination!
Budget-over, under or what you estimated?
Absolutely our hire furniture etc. having to change from a cocktail to a sit down added SO much money! We also invested in a video for those who were not able to make it due to COVID and the floods.
Here's what Jess and Guy had to say: