Real Wedding Blog; Manon and George @ Worrowing Estate
How did you two meet?
George and I met when we were both very young (me at 18, he at 20) at university. This was close to 10 years ago now. As we were both working part-time while studying to support ourselves, it was beneficial for us to condense our university time as much as we could. As such, we both found ourselves taking a compulsory sound engineering class late on Tuesday nights during our second semester. I am so thankful for this class – the class that brought us together. We met on the first week, went on our first date on the 3rd week and have been inseparable ever since.
Who popped the Question and how did it happen?
George and I are adventurers and dreamers. We much prefer exploring somewhere new and investing in our memories, then investing in material things. As such, we have a tradition to celebrate our anniversary by organising a couple's session so that we may look back on the photos captured one day and see how we've evolved over time. This is our gift to each other and to ourselves.
This time around, we were celebrating our 7th anniversary together. To commemorate the moment, we decided to go for a 6-week holiday, starting in Scotland. We thought, what better way to start off the holiday but with our anniversary shoot?
Since this shoot was planned so long in advance, and was part of our tradition, nothing led me to believe that this would be the moment George would ask me to be his forever. I had perhaps hoped he would pop the question during our trip, but any thoughts I had about the potential of it occurring during our shoot evaporated when the photographer asked us how long we'd been married. He was so genuine about it that I could sense there was nothing happening in the background.
Yet, unbeknown to me, when I headed to the loo before starting our shoot, George quickly and quietly informed the photogra[her of his plans to propose later that day. They didn't have much time to talk before I came back so decided to reconvene at lunch to make a proper plan. The best part is that I had completely no idea and nothing they did all day gave them away. Dylan (the photographer) held on to the ring for George and George wasn't nervous or acting weird, so nothing was out of the ordinary for me.
Close to sunset, Dylan took us to the most beautiful valley in Glencoe with tall grass and purple flowers. After climbing a small hill to better see the view, Dylan asked us to close our eyes and embrace to get a great shot. Completely unaware of what was happening behind me back, Dylan passed the box to George before quietly leaving room for us.
George then started whispering beautiful words in my ear before letting go and showing me a rock he was holding. A little surprised and confused as to how he got a rock in his hand while we were hugging, he then proceeded to drop to one knee and asked me to open it. That's when I realised what the box symbolised, and couldn't help but break down in tears.
See, since the very beginning of our relationship, whenever it was time for a present (Christmas, birthdays, and the like) George would always joke I would get coal because I had been naughty. However, as luck would have it, George would always have the most thoughtful gifts waiting for me. As such, coal became a lovely metaphor for his gifts over time.
With that in mind, he thought that for this ultimate gift, a piece of coal would be the perfect way to present it to me. As a 3D artist, he proceeded to sculpt a ring box to look like a piece of coal and 3D printed it with a prop maker in Sydney. I will treasure this box forever.
We were so happy and full of emotion at this moment that we completely forgot about the photographer's existence. So when he popped back in to congratulate us, it took us completely by surprise. Knowing that he was able to capture and immortalise this moment for us to treasure forever is the best gift I could have ever imagined.
The funniest part is that George became so nervous and full of emotion in the moment, that he actually forgot to ask me to marry him. He got down on one knee and flung his arm in the air to get me to open the box, but never actually uttered the words. So later on that night, when I reminded him of this fact, he then officially asked me right before we fell asleep. I couldn't have asked for a better proposal.
Why did you choose your venue and how was the venue choosing process?
Since travelling is a big part of who we are as a couple, we knew we wanted our wedding to feel like a getaway for both ourselves and our loved ones. Although we were originally considering getting married in Greece, we ended up deciding to stay in Australia so that the bulk of our friends and family weren't left behind.
Since my extended family were meant to be travelling down from France, we wanted them to be able to enjoy some of the beautiful countryside Australia has to offer. From then, we decided to visit a collection of venues of different styles, all within a 3 hour travel radius so that we wouldn't need to travel too far.
In the end, we fell for Worrowing Estate in Jervis Bay for it's gorgeous untouched land and blank canvas reception space. The wallabies were also a cute addition too. The team were incredibly kind and helpful in transforming their space to make it our own. We also loved that a bulk of our guests could stay onsite for the entire weekend. We couldn't recommend Worrowing more if we tried.
How many wedding guests did you have?
58 (60 if you count us in)
Sit down or Cocktail Style?
Both. Cocktail for entrees, sit down shared platters and cocktail style dessert.
What month?
February
Was planning the wedding stressful or did you enjoy the journey?
I'm not going to lie, the wedding planning process was no walk in the park… Between fires nearly burning down our venue, running into some extended family issues, and having to postpone our original wedding day 3 days before it was meant to happen due to COVID-19, our path to getting married was riddled with challenges to overcome. Needless to say, the process was stressful and I wouldn't wish this upon anyone.
But in the end, it was all worth it as the day / weekend couldn't have turned out better. Although my family couldn't make it from France, they were still able to witness it through a live stream, and everyone was overjoyed to finally celebrate. The entire day felt a lot more intentional, which we're incredibly thankful for.
How involved were you both in the wedding planning, did one of you take more of the lead on certain aspects than others or were you both equally involved?
We were both involved in the choosing of final vendors, but I did all of the preliminary research, quote retrieval and general planning. Considering I have a background in event management, it made sense for me to take on the bulk of the coordination as it's practically second nature for me anyways. George took on other responsibilities such as making beer with his brother for our guests to enjoy. ?
What was the top couple of non-negotiables or important must-haves at the wedding for you both?
George: Food / Drinks, music & photography
Manon: Food, photography / videography, flowers / styling
Tell us about your dress and that dress-finding process?
Truth be told, finding my wedding dress was not an easy process. I didn't really know what I was after, but I definitely knew what I didn't want / like. Because we were getting married in a more laid-back location, I wanted to make sure I was comfortable. But since you don't get married every 5 minutes, I also wanted to wear something memorable.
My mum and I scoured practically every bridal store in Sydney, before coming across Leah Da Gloria. Considering her style is incredibly glamorous, I went in thinking this wouldn't be the right fit for me. After trying on a range of dresses and not feeling like myself in any of them, Leah offered a sample she'd been working on but hadn't yet released as a last resort.
The moment I tried it on, I knew this was the one. It fit perfectly and felt as though it had been made for me. My mum even cried, which is crazy because she NEVER cries for these things. Needless to say, finding the dress after so many mishaps felt like a huge relief.
Since the dress was a yet to be released sample when I first tried it on, it didn't yet have a name. So when I came in for my first fitting, Leah surprised me by letting me know she had released the dress and named it after me. This honestly blew my mind, and is something I'll treasure forever.
What sort of theme, vibe or style did you go for?
Our theme revolved around our love of autumn sunsets. This meant incorporating lots of deep reds, oranges and yellows throughout our styling elements and flowers. Being mixed European / Australian, we also wanted our day to reflect us and our vibe. This meant making intentional choices to make sure the day was relaxed, elegant, intimate, inclusive and fun.
How did you both feel on the morning of your wedding?
We were both incredibly nervous, which was strange! Not nervous to marry each other, but nervous that things would fall into place as we'd hoped. In hindsight, this makes complete sense after all of the hoops we needed to jump to get to this day.
What was the best part or moment of your day?
There are so many to choose from, it's hard to pick just one! From the intimate ceremony, to the raging dancefloor, the entire day was a beautiful whirlwind.
Anything you would change about your wedding or anything that didn't go to plan?
Note really actually. Every little thing that wasn't planned ended up turning into the funniest memories. For instance, my bridesmaids, my father and I were so excited to get down the aisle, we ended up power walking down. ? Another example is one of George's groomsmen realising that his shoes didn't match with the other groomsmen. Although we didn't care, he was adamant to buy new shoes, so headed into town with only a few hours to spare. Considering there was a marathon in town, it's a miracle he made it back on time. All in all, I would suggest future couples to embrace the unexpected as these make for funny anecdotes you can look back on after and laugh about. We certainly do!
Are there any rituals, sentiments or traditions you incorporated into the day?
Coming from French & Greek families, there would have been too many cultural rituals and traditions to incorporate into one day. Since George and I were creating a family of our own, we decided to start a new tradition and incorporate a traditional Celtic handfasting ceremony as part of our vows. Since we got engaged in Scotland, we were inspired to carry a little piece of that memory with us on the day.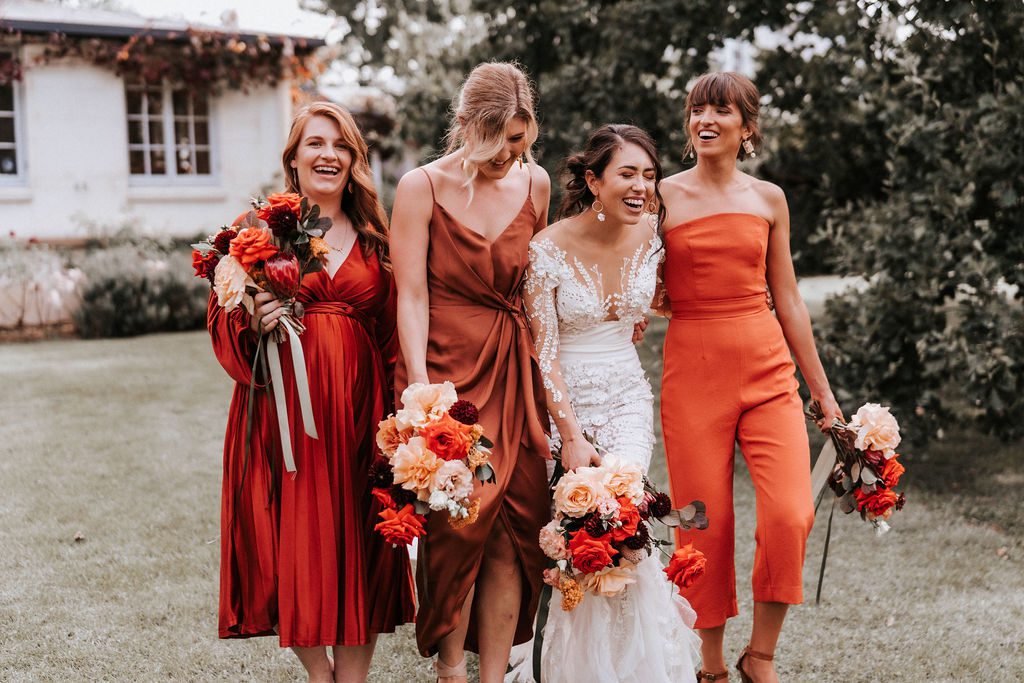 Describe newlywed life in a couple of words?
After 10 years together, we didn't think that legally tying the knot would change anything. But truth be told, it makes us feel all gooey inside to be able to (finally) call each other husband and wife.
Best investment or money well spent on the wedding that you made?
Again, this is incredibly hard as we believe everything came together so wonderfully, and the day wouldn't have been the same without our incredible vendors coming together. If we had to pick one each, we would say Photographer & videographer to immortalise our memories (Manon) and the Live Band to get the party started (George).
Budget-over, under or what you estimated?
We ended up being just over budget in the end. Mostly because we needed to repurchase perishables such as food and flowers due to being forced to postpone 3 days before our original wedding. Thanks COVID-19!