Real Wedding Blog; Sarah and Jarrod @ Seacliff House
Now, How did you two meet?
If you tell anyone this ill deny it.. but we initially met through a gym and then rekindled many years later through a mutual friends wedding and started dating from there!
Who popped the Question and how did it happen?
Jarrod popped the question after many tried and failed attempts in Florence Italy. Plan was to propose before Europe but I had organised a surprise 30th for him the same day! Then after I called Venice cliche (I had no idea he had the ring with us and it would have been stunnnnning) he settled on Florence to get it done haha!
Why did you choose your venue and how was the venue choosing process?
Venue choosing process was tough for us because we had a very clear vision and couldn't find something that ticked all the boxes. We wanted to stay away from the rustic vibe, which we found quite tricky and also didnt want anything too beachy or formal. We ended up going with Seacliff house and felt like it was the perfect spot where the wedding could be casual, warm and inviting but we still had the ability to style it a little more luxe to achieve the perfect vibe we wanted to create.
How many wedding guests did you have?
120 guests
Sit down of Cocktail Style?
Sit down (Initial goal was cocktail but found the styling too hard, as I was fearful the room would look empty, so changed to seated)
What month?
January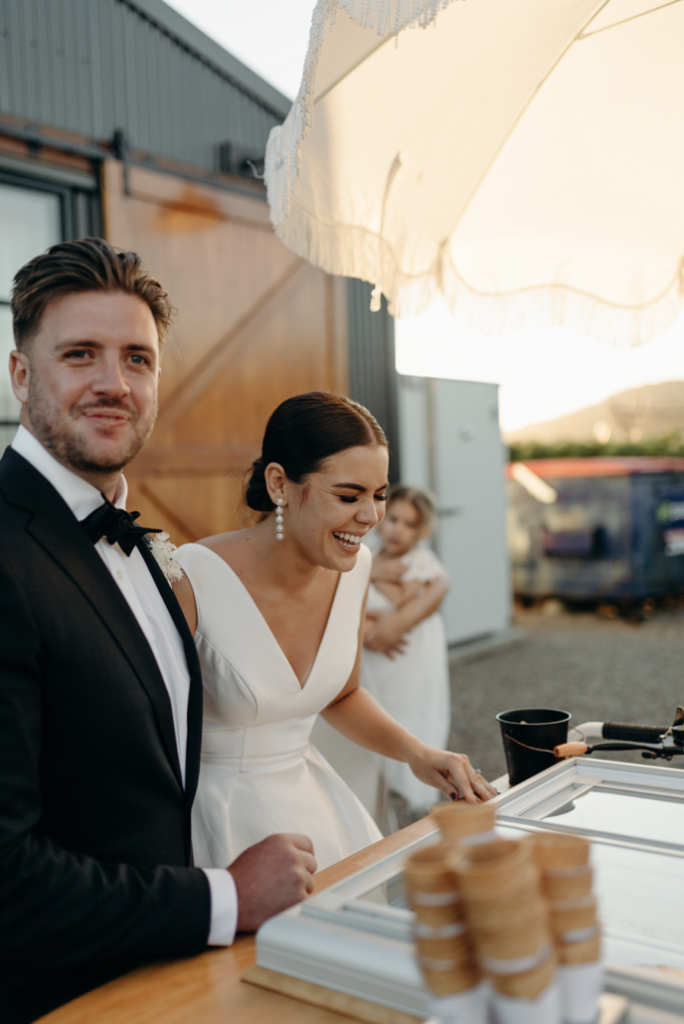 Was planning the wedding stressful or did you enjoy the journey?
I really enjoyed the journey! The only stressful part was the dreaded C word and the constant changing of plans!!! All our vendors were great!
How involved were you both in the wedding planning, did one of you take more of the lead on certain aspects then others or were you both equally involved?
Totally team bride on this one, however Jarrod was great at achieving delegated tasks.
What was the top couple of non-negotiables or important must-have's at the wedding for you both?
Photography, Videography, Live music
Tell us about your dress and that dress-finding process?
I had my dress hand made from scratch by family friends. So I absolutely loved the creative process and seeing the vision coming to life. From shopping for the material to putting it on, on the wedding day- the dream!
What sort of theme, vibe or style did you go for?
I would say our vibe was Casual Luxe/Sunday Soiree with an edge of classic. We just wanted it to be authentically us!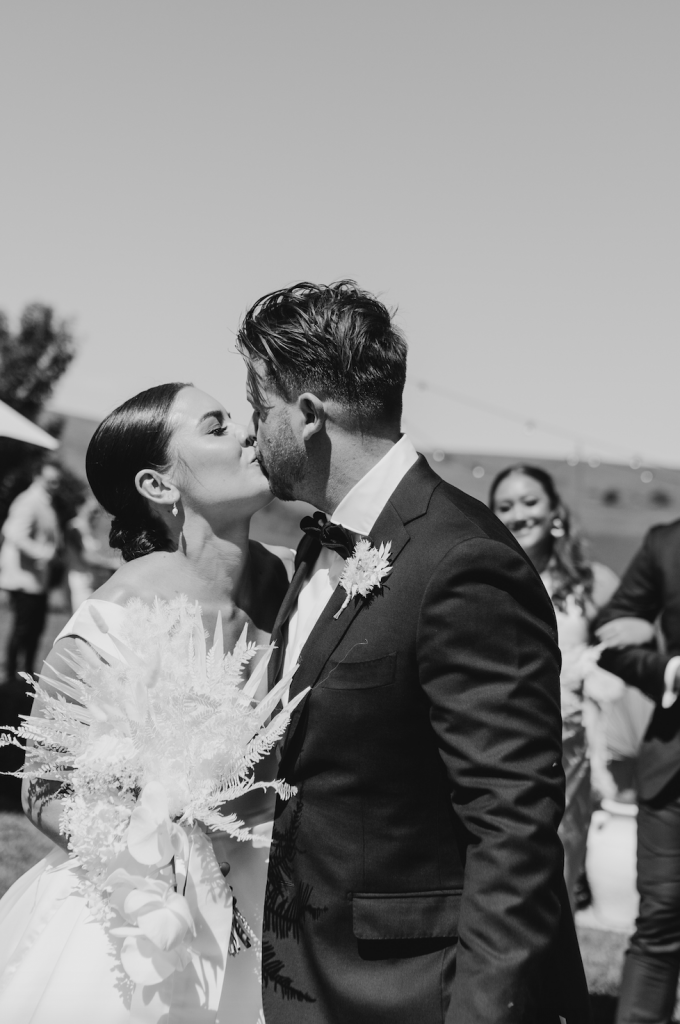 How did you both feel wedding morning?
I felt great, excited and loved getting ready with all my most loved people- best. playlist. ever!
Jarrod was super nervous the morning of the wedding but also very excited – ball of emotions.
What was the best part or moment of your day?
Will you make us choose!? Honestly the best day. One of our favourite moments was our sneaky sunset photos, just the two of us. Then returning and seeing all our loved ones in one room, once in a lifetime!
Anything you would change about your wedding or anything that didnt go to plan?
Does covid count? haha otherwise we were so happy! If we had to choose, potentially more cocktails but nothing major at all.
Are there any rituals, sentiments or traditions you incorporated into the day?
I had a piece of blue lace sewn into my dress, African dancing, prayer in the ceremony, speeches etc We kind of ditched most of the traditional rituals as we wanted to build our own.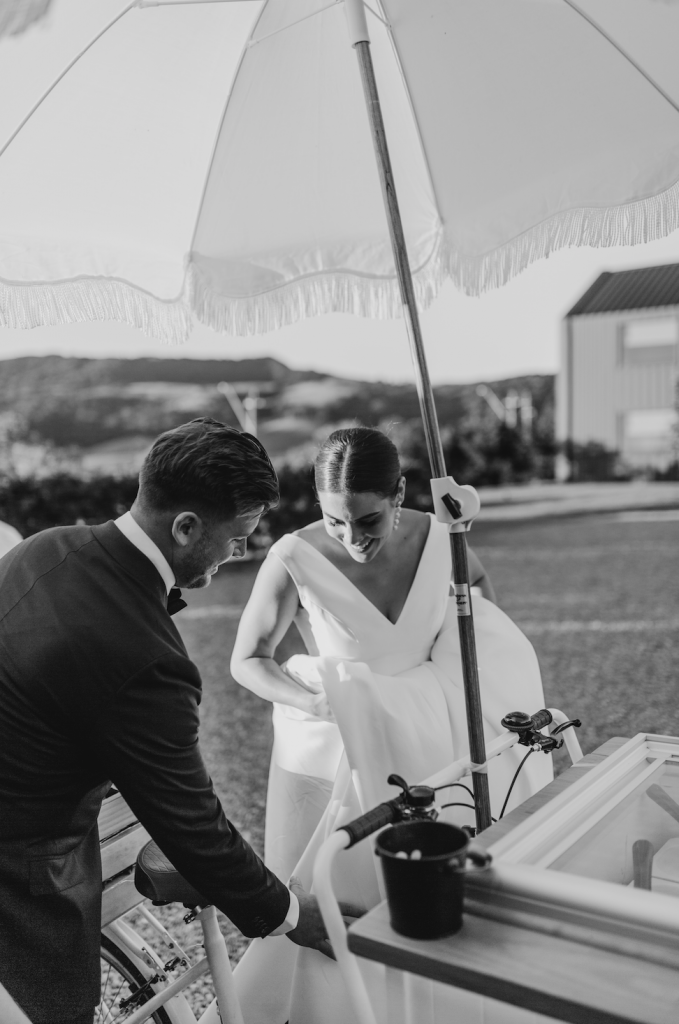 Describe newlywed life in a couple of words?
So fun! I think I couldn't wipe the smile off my face for a whole month. After 2020 we were just so grateful to get married and have all of our people there as we are massive family people! Perfect start to newlywed life!
Best investment or money well spent on the wedding that you made?
Honestly, I tell people this everytime someone asks. It was you guys! The endless emails back and forth for a year and a half (sorry haha). You were all happy to answer any of my silly questions or provide support along the way. One the day the two coordinators Jade and Ellie were beyond fantastic. They handed so many mishaps eg, food misscommunication, lost SD card, Covid tested band member and MORE, with zero sweat. They were so fabulous it meant I could hand everything over and be totally in the moment and not have to be thinking about the timing of anything. They were both actually the nicest people ever, so we loved spending our day with them.
Budget-over, under or what you estimated?
Over- but we didnt set a solid budget. We knew the kind of vibe of the day we wanted and werent willing to compromise on it. Perks of a long engagement!!