Real Wedding Blog; Sammi and Hamish @ Worrowing Estate
Now, How did you two meet?
We met through a mutual friend. I have known her for about 14 years and he had become best buddies with her after meeting through their work about 5 years ago. She invited us both out a couple times and then left us to our own devices. And the rest is history! She was his groomswoman at the wedding which was special for us both!
Who popped the Question and how did it happen?
Hamish and I love to get out and go for drives in the "weekend car" and on 26th October 2019, we accidentally stumbled across the most beautiful gardens called Bebeah Gardens in Mount Wilson. I fell in love with all the autumn colours. So, for the next 6 months I went on and on about waiting for Spring so we could go back. Spring came and off we went. Flowers! Flowers everywhere!! We wandered down some steps that opened up to a gorgeous lake and I said "oh Hamish how pretty is this?!" He decided that was his moment and he said "is it as pretty as this?" I turned around and he was standing there with the ring held out towards me. I lost my mind and it was all very exciting! But technically, still to this day, he hasn't actually asked me to marry him haha
Why did you choose your venue and how was the venue choosing process?
Straight off the bat, we both agreed we didn't want to get married in Sydney. He is from the south coast and suggested Kangaroo Valley Bush Retreat. We booked in a tour two weeks later and locked it in on the spot. Devastatingly KVBR was destroyed by the fires and we had to hunt for a new venue. I was then set on finding another natural setting DIY venue and at the suggestion of my MOH, we came across Worrowing. I was blown away, fell in love and again, we locked it in that day! I'm a girl who knows what she likes, so we found the process pretty easy. And he was stoked we didn't have to visit 20 venues before finding "the one."
Was planning the wedding stressful or did you enjoy the journey?
Well …. aside from bushfires, border restrictions, COVID and all the little hiccups in between …. I absolutely LOVED planning our wedding. This kind of thing is right up my alley. I loved that we chose a DIY venue and it was a complete blank canvas. I loved researching and being able to go as big or as little as I wanted. And I met the most amazing vendors and all-round lovely humans along the way. 7 weeks on and I have wedding planning withdrawals. I don't think anyone can ever truly prepare you for all the emotions you go through during the planning process (amplified when you're a "covid" couple). But I think it is really important to try and just tackle one task at a time. And even more important … make time for your relationship that DOES NOT revolve around wedding planning. It can become all too consuming and that alone can be a stressor. Take your time, persevere and enjoy the experience.
How involved were you both in the wedding planning, did one of you take more of the lead on certain aspects than others or were you both equally involved?
Hamish would have settled for the registry and a backyard BBQ. BUT he chose me to marry so he knew that was never going to happen haha So I did 98% of the planning. I did make sure to ask at every stage along the way "do you want an opinion on this…? (e.g. florals, menu etc) and where he had an input, I made sure I worked it in. Side note: he actually had an amazing time and said he was glad we had a wedding!
What was the top couple of non-negotiables or important must-haves at the wedding for you both?
For us, this wasn't an actual "thing." It was all about the atmosphere of the day and making sure everyone had a ball. We wanted it to be fun. A celebration from beginning to end. We were set on a short and sweet ceremony so we had one that was short, sweet and packed full of laughs (South Coast Brides – Todd Mayhew is your man if this sounds like your vibe too!). And we wanted the day to flow and not have our guests waiting around doing nothing so we kicked off the cocktails, canapés and lawn games around 15 minutes after the I DO's!! This was made easier by the fact that we had our ceremony and reception on the same site. We both agreed that live music was our style over a DJ so that was a must have. We also made sure the day was exactly how we wanted it. We didn't want "just another wedding" or to do things "the right way." There is no right way! It's your day and you do it EXACTLY how YOU both want it.
Tell us about your dress and that dress-finding process?
This was both a fantastic and terrible experience! I made appointments at two bridal stores; Oleg Cassini and the other I shall not name! My mum and 3 of my bridesmaids came with me to the appointments. With Oleg Cassini, you can view their gowns online. I knew from the moment I scrolled upon my dress online, that it was the one! BUT this is often not the case so I was advised by many to keep my mind open. Off we went. I tried on a few styles at the appointment and was starting to get a bit stressed. They weren't for me. Then I tried on "my" dress. Immediate love. I walked out to everyone waiting – tears all round! The veil went on and I felt like a princess. In that moment, it also got very real! The consultant was amazing. She listened, she was sweet, she clipped and pinned the dresses (some were too big, some were too small) and she just went above and beyond. We decided to keep the second appointment anyway, just in case, and to just enjoy the shopping experience. The second bridal store…. nightmare. The consultant pulled every style of dress I said I didn't want/like. I am quite busty so she just kept saying "that won't fit you," "no, I won't like that on you" etc and didn't clamp or pin anything. I was so deflated and truely believe if I had made the appointments the other way around, I'd have quit and gone home. The very next day I ordered my dress from Oleg Cassini and I am still so in love with it. Dress shopping can be stressful. It kind of feels like a pressure cooker situation – but again my best advice is to take your time, persevere and the right one will come along!
What sort of theme, vibe or style did you go for?
We had a really soft natural pallet with all preserved/dried florals – earthy tones with soft pink/peach colours. And definitely a casual and full of fun vibe!! We had a smart casual dress code and spent a lot of time outdoors. We had lawn games and break out furniture in the yard. A caravan bar for drinks and banquet style meal.
How did you both feel wedding morning?
We were both actually quite relaxed! I am still really unsure how, seeing as Hamish hates being centre of attention and I was still processing the very recent passing of my dad. But I think we were just ready. Ready to enjoy our day, ready to have 12 months of planning and ups and downs come together, to make our commitment and to start the next chapter of our lives together.
What was the best part or moment of your day?
THE LOVE. I love love and our day was filled with it. The heart-warming moment we were declared husband and wife. All our family and friends together. Just so much love.
Anything you would change about your wedding or anything that didn't go to plan?
The day was absolutely perfect. And if we did it all again (I've asked – he says no lol) – I would not change a thing! We had WEC on the day coordination and maybe things did go wrong – but I wouldn't know because Julz was our Rockstar coordinator and the day went like a dream! For future brides: We had a sparkler exit so maybe one thing I would do is make sure the gap between the isle of people was a little wider. If you ply your guests with cocktails, beer, wine and spirits for 7 hours – placing them in charge of burning objects at the end of the night can really improve your ducking and weaving abilities lol
Are there any rituals, sentiments or traditions you incorporated into the day?
I feel like we scrapped more traditions than we kept and really rearranged the entire day (compared to a "traditional" wedding) and it was brilliant!! We had a first look (beautiful and highly recommend) and then we had our bridal photos straight after and before the ceremony. Once our short sweet ceremony was done, that meant we didn't rush off anywhere. We got to spend the ENTIRE afternoon with our guests. We did the best man and maid of honour speeches out in the yard half way through cocktails and canapes which really helped break up the speeches. Then after we entered the reception, we went straight into cake cutting and our first dance. When we sat down, we had father of the groom speech, brother of the bride speech and dance and then that was it! All formalities were done. Guests didn't sit through a solid hour of speeches; dinner was served and the rest of the afternoon/night was ours.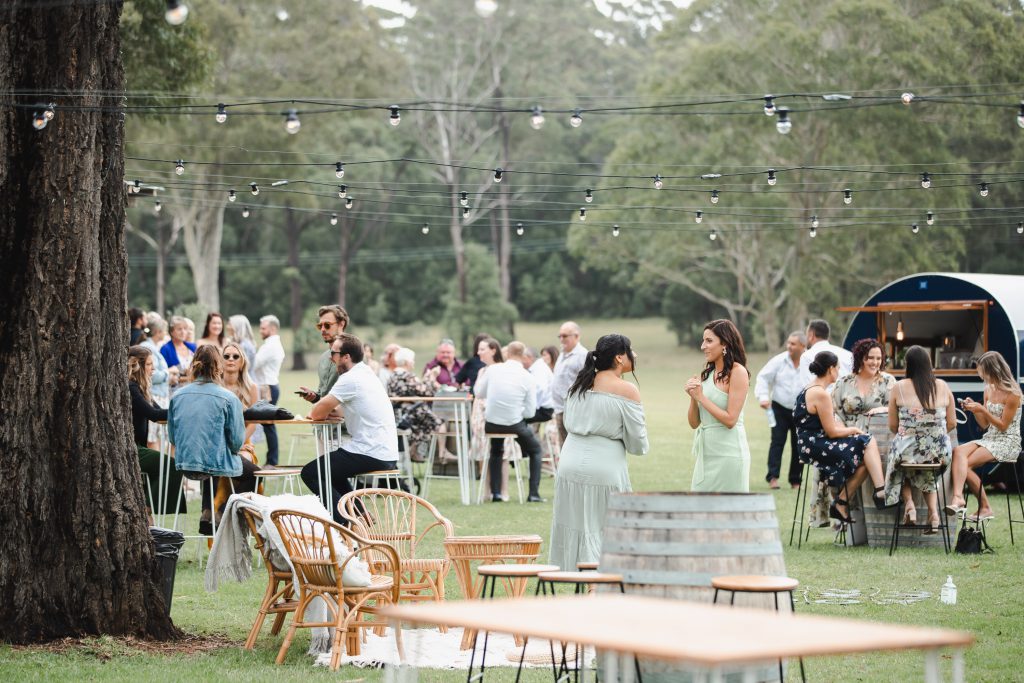 Describe newlywed life in a couple of words?
LOVE. Warm hearts, comfort, exciting …. did I mention love?!
Best investment or money well spent on the wedding that you made?
Everything!! But the absolute stand outs have to be; 1. Photography. I cannot choose just one favourite from the whole lot. Sam and Nat were amazing and thier work is incredible. 2. Florals – I still remember the jaw drop moment when I had a sneak peek inside our reception and at our arbour just before our guests arrived. The girls at Ivy Lane knocked their creations out of the park. Next level amazing.
Budget-over, under or what you estimated?
Definitely over. But again, our day was amazing and it was money very well spent. We loved every single supplier/vendor we worked with and our day wouldn't have been the same without them.
Credits: