Real Wedding Blog; Natalie and Tim @ Melross Farm Kangaroo Valley
Now, How did you two meet?
For Tim and I it was love at first swipe after meeting on Tinder and having our first date at Cronulla RSL. I'm a big talker so was pretty happy with the fact that we got along easily and there were no awkward silences and the rest is history!! Since then we have enjoyed lots of adventures together including living in Dubbo for 2 years!
Who popped the Question and how did it happen?
In 2019 we went on an amazing Europe holiday for my 30th. I love travel and love organising holidays. Tim had never been to Europe so I didn't really trust him with any of the planning and I organised it all which ended up backfiring. Tim had planned to propose at Lake Como very early on in our holiday. He had organised a private car from our hotel, lunch on a boat on the lake and a helicopter tour over the lake. I insisted on booking train tickets so Tim cancelled the whole thing and I had no idea until he told me after actually getting a chance to propose in Santorini in a private booth on the cliff near our hotel at sunset. I was impressed to hear that he had organised the original idea but definitely not disappointed as it ended up being perfect! He had even designed my engagement ring himself from the amazing Natalie Marie.
Why did you choose your venue and how was the venue choosing process?
Venue hunting was a fairly quick process for us. Living in Dubbo we came back for a weekend of venue hunting- crammed as many in as we could and were pretty much done after a day. I had always imagined getting married on the south coast and although I imagined a beach wedding, we fell in love with Melross Farm in Kangaroo Valley. There were other venues that we also loved but some were too DIY and others included accomodation for upto 100 guests which was great but the price for that was included in the package and it was going to be upto us to allocate tents/cabins/rooms and collect money from all of our guests which was just in the too hard basket. Melross had a beautiful property, a barn with all the inclusions and houses for the bridal parties to stay on. I ended up opting for really coastal florals and styling so it was a bit of a mish mash with a country style property with coastal touches.
How many wedding guests did you have? Sit down of Cocktail Style?
We had about 120 guests for a sit down dinner with share platters for mains.
What month?
Originally our wedding was supposed to be in May 2020 but covid had other plans and we finally were able to get married in January 2021!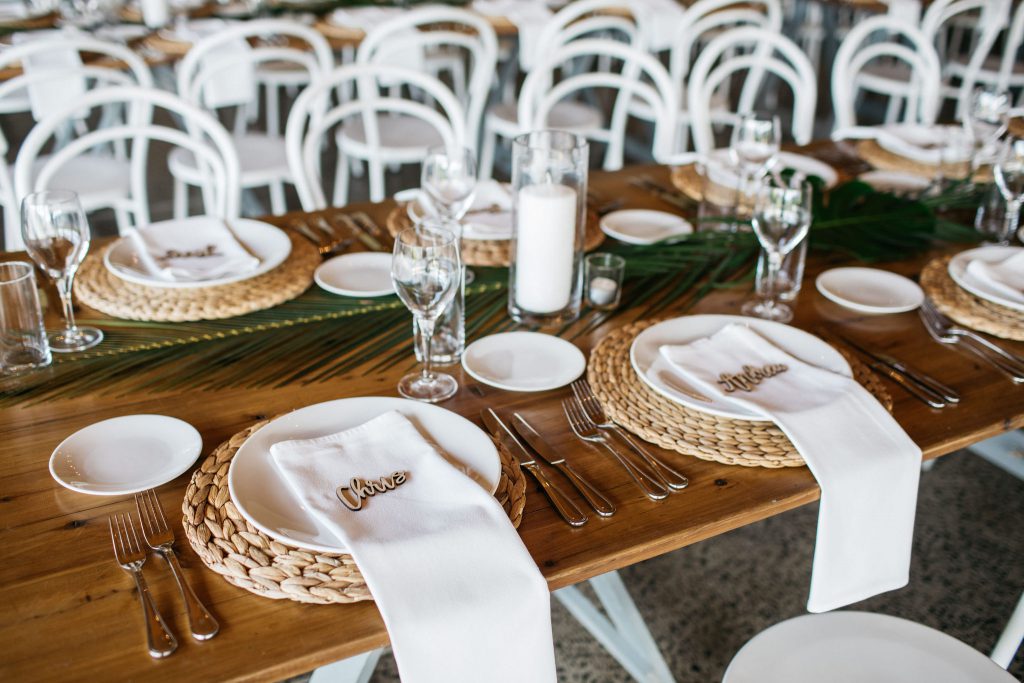 Was planning the wedding stressful or did you enjoy the journey? How involved were you both in the wedding planning, did one of you take more of the lead on certain aspects then others or were you both equally involved?
Planning the wedding was originally quite an easy process once we had locked in the venue. Our venue gave us a list of local florists, caterers and bus companies to use. Being in Dubbo we didn't bother meeting with anyone we just went with our gut and booked it all in. The stress started to kick in when I realised that we were most likely going to have to postpone and not knowing how far down the track to postpone it. Our venue didn't have many free dates and we didn't want to wait too long so we were grateful when they offered us January and we crossed our fingers that covid would ease by then. I got straight on the phone to all of our vendors once we had a new date and luckily all but the florist could do our new date. Our florist had sold her business so couldn't do our new date but refused to refund our deposit which was a bit disappointing to find out but the florist we ended up with was amazing so it all worked out (besides losing the $$).
What was the top couple of non-negotiables or important must-have's at the wedding for you both?
In terms of must haves- my biggest ones were an amazing photographer/videographer (Maple & June were the BEST) and an amazing band with an added saxaphone. 'Top Shelf Live' were definitely a highlight and made our day sooo much fun! We just wanted a laid back vibe with lots of fun and dancing!
Tell us about your dress and that dress-finding process?
My dress hunt was a pretty quick process as well actually! I came to Sydney and went to a few different bridal stores. I was SUPER close to putting down a deposit on a different dress but they couldn't fit me in for a second trial the days I was in Sydney which I am now grateful for as I found a dress I loved even more! I knew I wanted something with a low back and was leaning towards a halter neck style. Whilst in Peter Trends Bridal I found a dress with the most amazing art deco style lace but I wasnt sold on the style and cut of the dress. They were super helpful and pointed us in the direction of Marry Me Bridal in Mossman who stocked the same Spanish designer. I walked in, asked if they had any Rosa Clara gowns in that style lace and they brought out my dream dress! With our original May date we were expecting coldish weather so in all my spare time in Dubbo during covid I had made myself an embellished denim jacket with my new name across the back and had purchased an ivory Lack of colour hat (I have a bit of a hat collection going) that I had planned to wear for part of the day. Our January date ended up really hot but I still made sure we got some photos with the hat and jacket which I am glad for as they are some of my favourites!
What sort of theme, vibe or style did you go for?
So essentially we ended up on a country venue with coastal florals and styling (by the amazing wed event creators), an art deco style dress accessorised with a denim jacket and hat…. not really sure what vibe that is but it worked for us haha.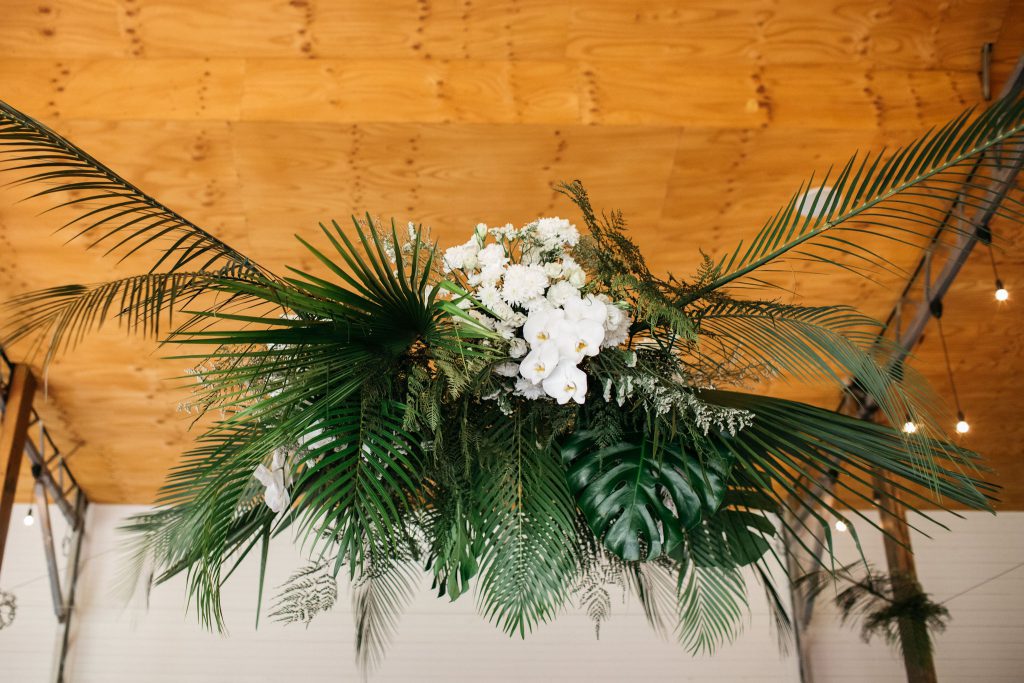 How did you both feel wedding morning?
On the wedding morning I was definitely feeling a bit concerned as it was raining ALLLLL morning and was forecast to rain until about 7pm. BUT the sky cleared and it ended up stinking hot. I have never seen guests run so quickly from the ceremony up to the reception to get out of the heat. We actually ended up running out of water and soft drink which I didn't expect! (at least it wasn't the alcohol that ran out!)
What was the best part or moment of your day?
The best part of our day? Too hard to decide! The whole day was amazing. Having all of our family and friends in one place to celebrate was amazing and finally getting to walk down the aisle to Tim. The dance floor was definitely a highlight as well.
Anything you would change about your wedding or anything that didn't go to plan?
The only thing I would change would be things that are out of my control anyway- the extreme humidity during the ceremony. We ended up rushing through to get out of the heat and forgot one of our readings and didn't get to put our drone up for a big group shot as everyone ran to the bar too fast. I sort of wish we had started the ceremony earlier as the day went soooo fast I would have loved an extra hour or two to mingle with guests before the rush of dinner and speeches. I can't complain as it was truly the best day ever.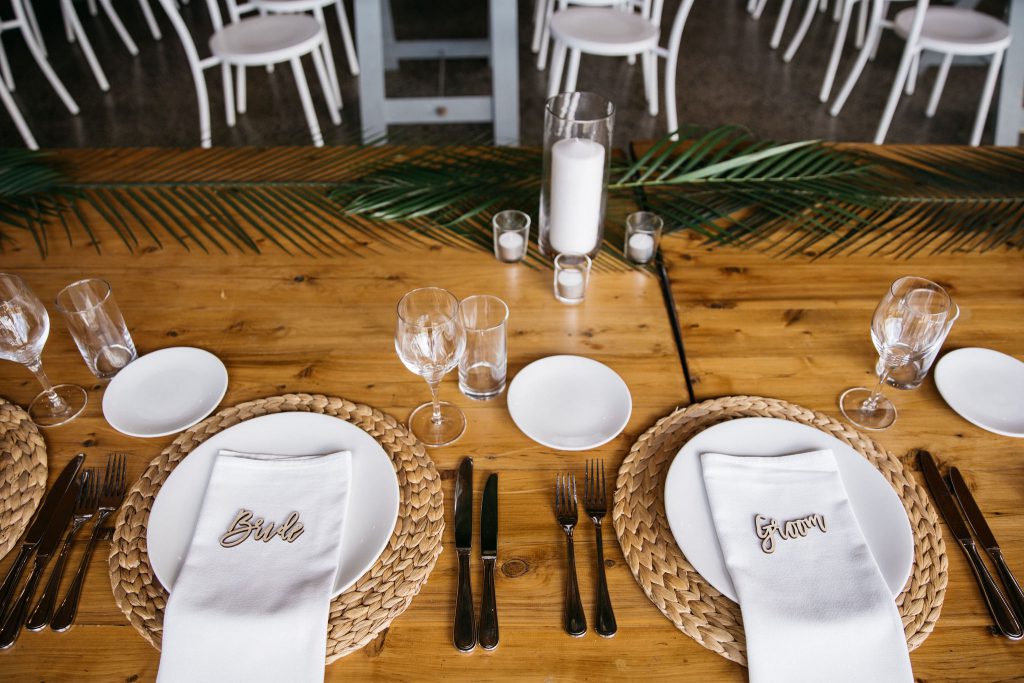 Describe newlywed life in a couple of words?
Newlywed life for the most part is the same as engaged life. There is definitely the added excitement of being able to discuss and plan the future- house goals and family goals etc. We both have our heads down working pretty hard at the moment. Looking forward to getting away for our honeymoon in two weeks time. I am definitely glad all the planning is over but would give anything to relive the day.
Best investment or money well spent on the wedding that you made?
Best investment- every vendor was an amazing investment. Wed Event creators took all the stress off on the day of having to worry about setting up and styling. Our florist worked so hard to create my dream flowers (despite usually working with natives) she incorporated palms and orchids and everything I wanted! Photographer and videographer was definitely an amazing investment. Cant recommend Zoe from Maple and June enough! And our band!!!! Would not have been the same without Top Shelf Live they tailored their song choices so well to what we wanted! aaaand my dress! I'm sad at the thought of having to sell it ? 
Budget-over, under or what you estimated?
In the end we were probably slightly over our budget and we have waaaay too much alcohol left over but it was all well worth it and the alcohol will not go to waste!
Here's what Natalie and Tim had to say: