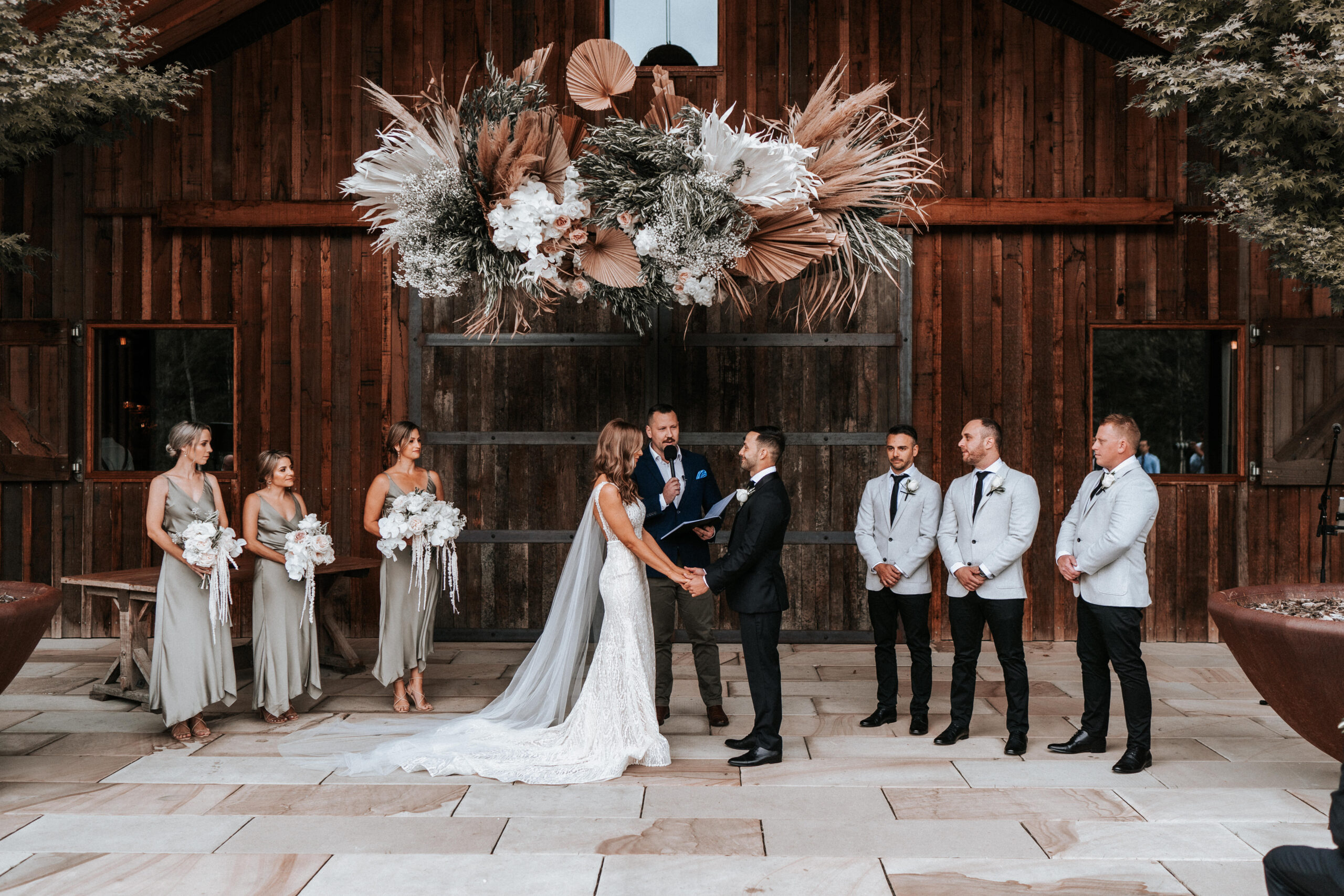 Real Wedding Blog; Holly and Damian @ Bendooley Estate
Now, How did you two meet?
Damian Bosco added you as a friend……
Yep, that's how it all started. 7 years ago Damian sent me a friend request on Facebook & I accepted. Im pretty sure he was stalking my profile for a few weeks because he kept seeing my friends photos with me in them and liking them haha….. Moments later (in a romantic Facebook message) I asked… 'have we met?'… to which he replied … 'No, but it's a start'… and the rest is history….
After that day, I don't think we went a day without talking to each other and we officially started dating on boxing day 2013.
Who popped the Question and how did it happen?
Damian was smart and picked his birthday weekend to pop the question! A strategic 'Damo's Birthday Brunch' to our favourite spot down at Red Leaf Beach & Café in Double Bay was locked in for months! With me assuming this was our standard Sunday brunch birthday routine, he got me good.
So we got there and straight up went for a walk around the wharf where exactly at the half-way point we stopped and I think I said ''I love this spot or this is the best spot' and as I said it I turned around and he was on one knee. He was shaking so much because he was so scared he was going to drop the ring down the cracks of the wharf. His shakey voice went straight to the point and he said 'Will you marry me?' and I replied 'are you serious?' I was sure he was joking lol there was lots of laughs and he very quickly gave me the ring because he didnt want to risk dropping it in the water a second longer!
Why did you choose your venue and how was the venue choosing process?
For us the venue choosing part was so easy & simple. I fell in love with The Stables at Bendooley Estate after seeing a video on Instagram from The White Tree Band playing there. I locked in a date to go check it out with Damian and we fell in love! The whole vibe, open land, serenity, AMAZING aisle set up and a really chic / industrial vibe inside The Stables really set the tone for everything we wanted our wedding to be; simple, beautiful & truly us! The staff behind Bendooley as well made the whole process so easy – they were truly second to none, beyond words amazing to deal with.
We never even looked at any other venues. We saw this & knew it was the one!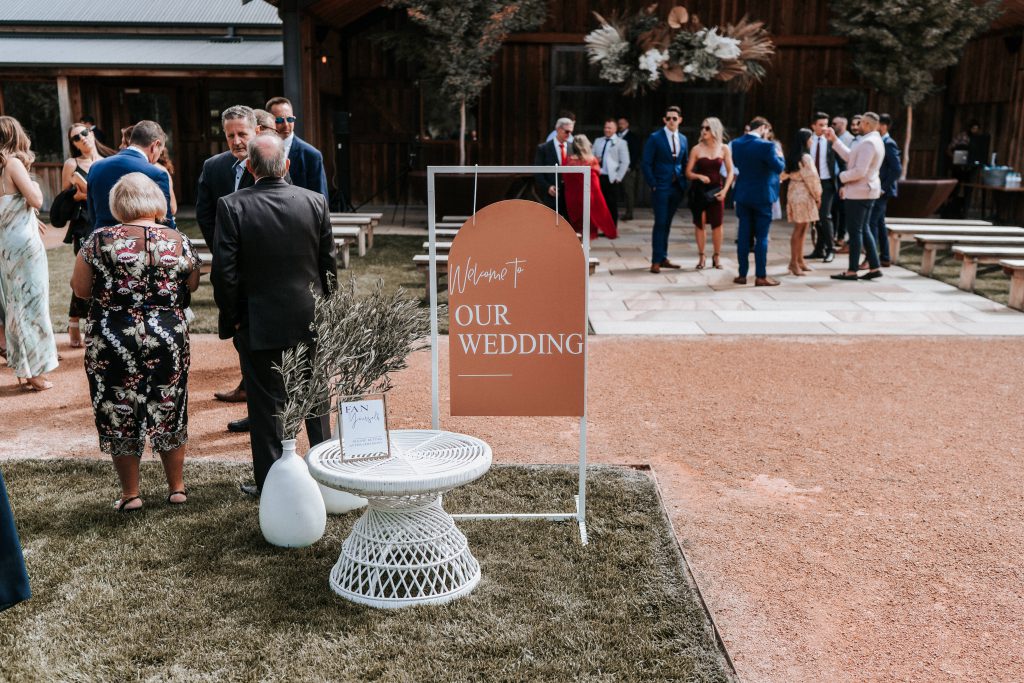 How many wedding guests did you have?
95 
Sit down of Cocktail Style?
Sit Down 
What month?
January 2021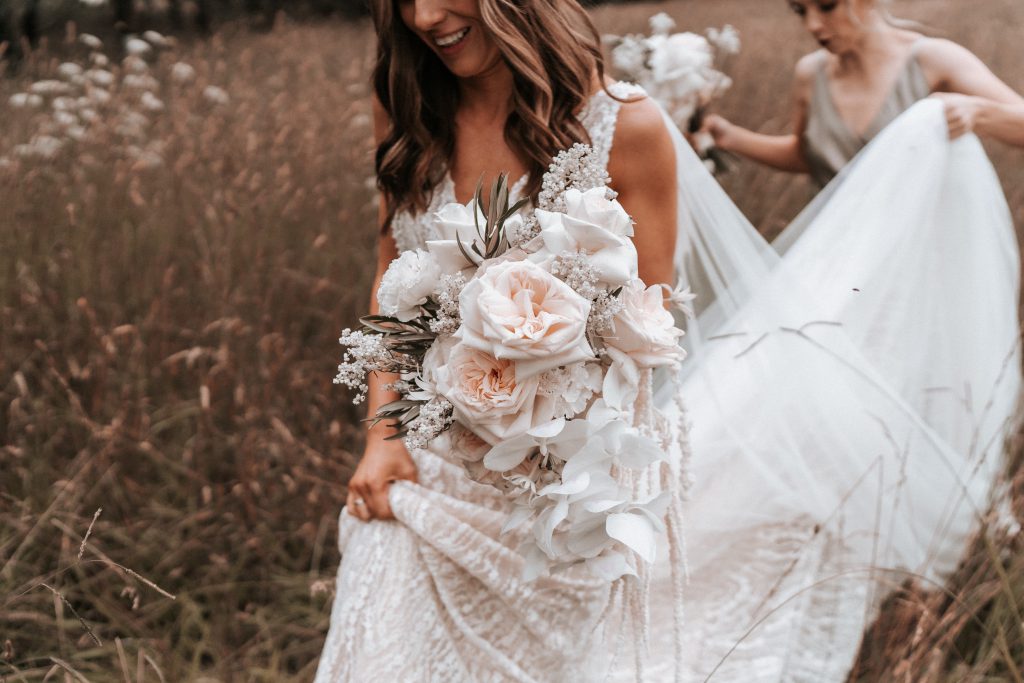 Was planning the wedding stressful or did you enjoy the journey? 
The first 8 months or so of planning was a breeze! I was super organised – had all my big vendors and plans locked in within 3 months of picking the venue – almost too good to be true right?   
Then Covid hit….and there it was…the wedding stress ha! There was lots of different emotions and thoughts around this time. We made the decision early on in April to postpone from our original August 21st 2020 date to the 6th of January 2021. For us, having the amazing staff at Bendooley be so supportive and understanding made the process and thought of postponing a lot easier.
How involved were you both in the wedding planning, did one of you take more of the lead on certain aspects then others or were you both equally involved?
Definitely me (Holly) took the lead! I work in events for my career so I had the whole ''event planning'' thing down pat! That being said, I ran all of my ideas past Damian to which he always replied 'yes sure, whatever you like" haha.  
What was the top couple of non-negotiables or important must-have's at the wedding for you both?  
– We wanted our wedding to feel like one big family dinner – very casual & fun! Having just 3 x long banquet tables and all share food really made it feel homely & friendly.  
– Amazing food! The food HAD to be amazing! Damian comes from an Italian family who a big on food, food & more food! 
– Dancing! We didn't realise until Covid restrictions came in to play just how much we valued the simplicity of a good dance floor! We were lucky and could have most of our guests up on the dance floor for a boogie! We had an amazing band who really made the night super fun. I don't think anyone who ever got up on the dance floor actually ever sat down again haha 
Tell us about your dress and that dress-finding process?
My dress was a lot more ''extra'' than I usually am haha I always pictured I would go for a really simple silk, spaghetti strap slip dress, but I ended up with a completely embellished, deep V neck fitted gown with wings for a veil! Haha but I felt amazing! I wanted something that was still med… but just extra! This is the only time in my life I would wear something so beautiful so I really wanted to find something still quite simply in style but wow in the fabric design. I also opted for wings instead of a traditional veil as I wanted to showcase the back of the dress and have something a little unique. I found my dress at Love Marie Bridal Boutique (this was my third wedding dress shop) and fell in love with it straight away.  
What sort of theme, vibe or style did you go for?
We wanted something very simple, chic & beautiful – very relaxed vibe, lots to keep our guests delighted and have a lot of fun! Also very boho chic in florals and styling – and olive branches! We had to include olive branches haha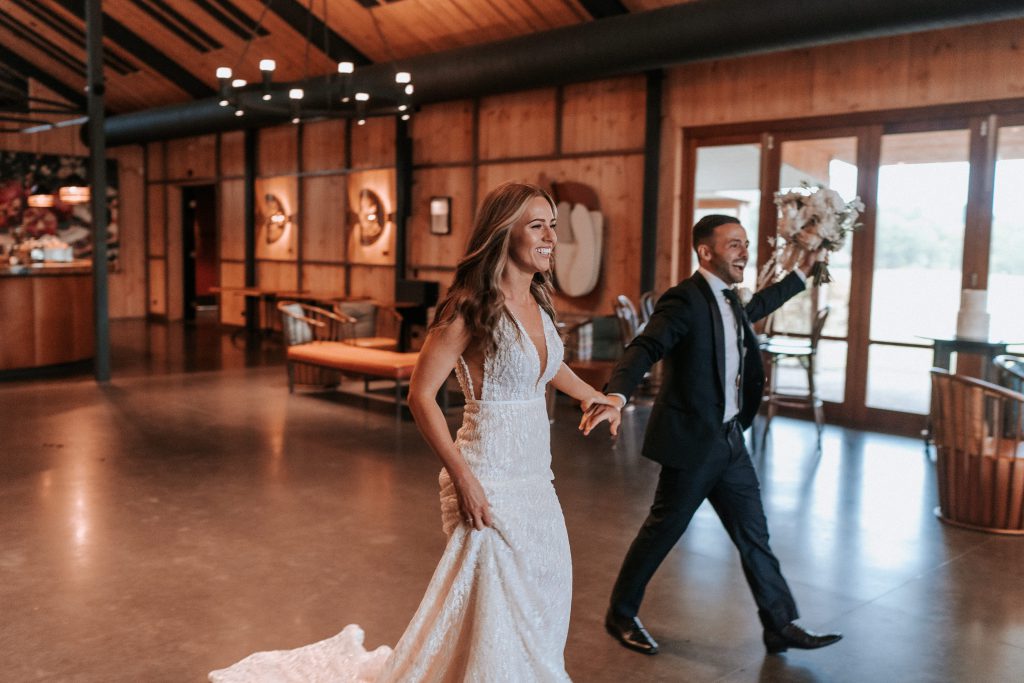 How did you both feel wedding morning?
We were both super nervous! I don't think Damian ate all day and I was just snacking all morning! 
What was the best part or moment of your day?
The feeling after the formalities where we just got to let loose on the dance floor and have fun! All the stress of covid was over, all the nerves were gone and we honestly wish it didn't have to end! 
Anything you would change about your wedding or anything that didn't go to plan?
Absolutely nothing! We were very lucky that everything went to plan, the weather held off for the most perfect ceremony and cocktail hour, and the night was everything we wanted it to be – fun!
Are there any rituals, sentiments or traditions you incorporated into the day?
No there wasn't actually!
Describe newlywed life in a couple of words?
It's just fun! It's a really exciting time of our lives. We feel closer than ever and it's a great time to really enjoy just being together – just the two of us.
Best investment or money well spent on the wedding that you made?
A few things actually: The venue & food – beyond amazing! The Gelato Bike! The flowers & styling really set the tone for the evening as well and was all so simple and beautiful. And a second dress for dancing!
I can't forget our photographer and videographer too – I have never seen a set of photographs so timeless, natural and beautiful! and our highlight video – wow! 
Budget-over, under or what you estimated?
Pre-covid it was sitting a little over what I had anticipated. However, due to having to cut out guest list down from 165 to 95 (due to covid) we ended up being below ?
Here's what Holly and Damian had to say: