Real Wedding Blog; Ali and Mark @ The Woods Farm
About You Two:
How did you two meet?
We met on Tinder initially and then caught up for a breakfast date in Manly, NSW after some written exchanges.
Who popped the Question and how did it happen?
Mark popped the question. It was our first solo getaway after having our daughter Frankie who had turned 1 a month prior. We went to check out some wineries which we had originally had planned but had to postpone as I found out I was pregnant. We arrived at our tiny home and I went out to feed the cows at the property some apples but when I went to grab an apple out of the bag, instead I pulled out a ring box and then Mark got down on one knee and asked me to marry him.
Why did you choose your venue and how was the venue choosing process?
We wanted a bit of a getaway destination. We wanted to be able to celebrate for a few days with our family and friends and ultimately wanted everyone to be able to stay in the same location so we could hold a few events and no one need to worry about going to and from as well as somewhere people would feel like they were on holiday. We chose the South Coast because we saw there were several venues down there that looked like what we were after. We had a look at a few beautiful venues but when we arrived at The Woods Farm I knew that was where I wanted to have it. We chose our venue a week after we got engaged. I knew we needed to move quickly and we were about a year out from our initial desired date (which had to change due to covid)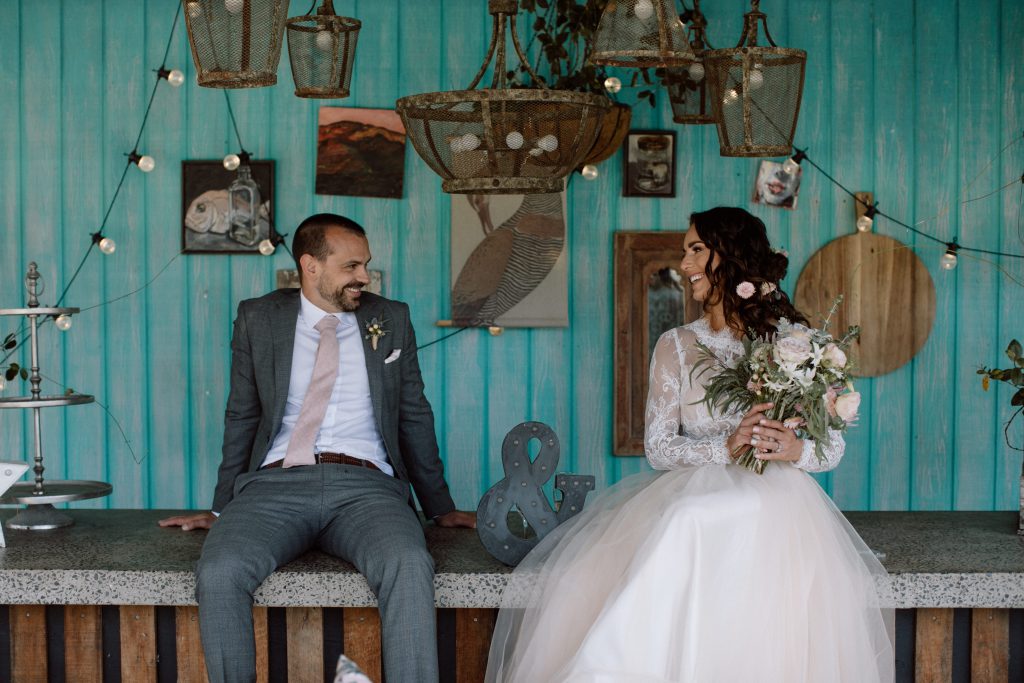 Quick Fire Questions;
How many wedding guests did you have?
70
Sit down or Cocktail Style?
Bit of both- cocktail hour with grazing platters was more cocktail and then we loved in to the barn for sit down mains with dessert more cocktail again as guests moved around.
What month?
End November 2020 after we had to reschedule from April due to Covid restrictions.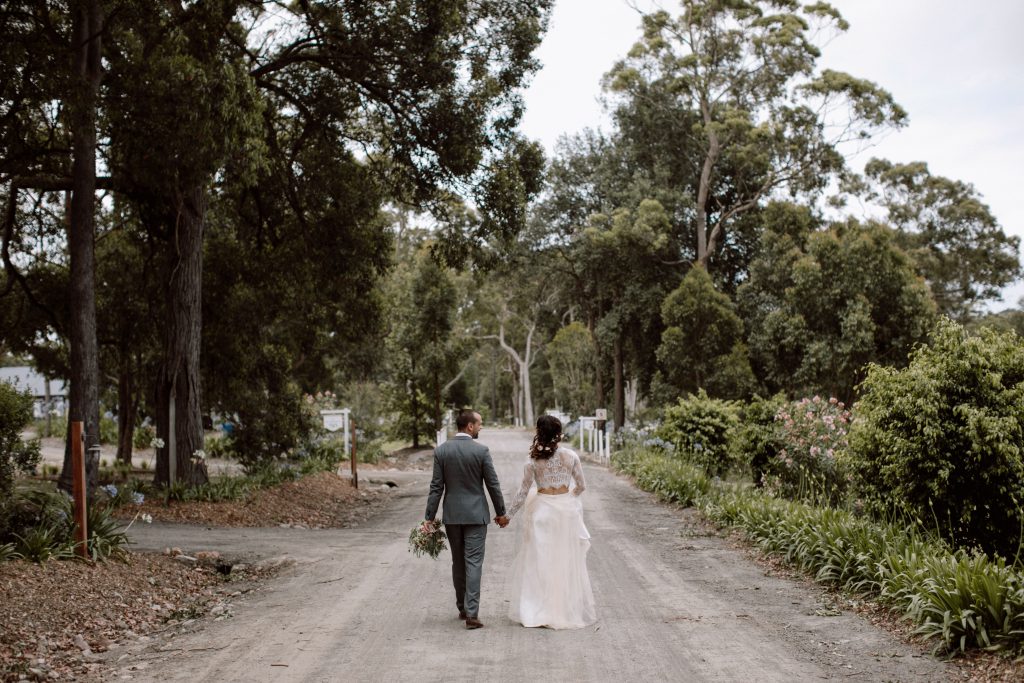 Planning The Wedding;
Was planning the wedding stressful or did you enjoy the journey?
No, I enjoyed it. I love organising events so this was fun for me.
How involved were you both in the wedding planning, did one of you take more of the lead on certain aspects than others or were you both equally involved?
Definitely me. I asked Mark what level of detail he wanted to be involved in at the beginning. I think quite a bit was a surprise for him on the day but the big ticket items he provided input into.
What was the top couple of non- negotiables or important must-have's at the wedding for you both?
Ceremony and reception on the same site, and enough entertainment for the guests if dancing wasn't permitted to keep the day/night going while not let our guests bored.
Tell us about your dress and that dress-finding process?
I had a skirt and top. I wanted to get something that wouldn't be expected. As this was my 2nd wedding and being 2 children deep I felt I needed to be appropriate in my choice so I wasn't looking for a veil, I wanted cream or off white as the colour, and didn't want anything too over the top bridal…it could be argued that's the way I went in the end. I googled bridal skirts and tops and found mine on Etsy from a designer in Russia at a very reasonable price. I thought it too good to be true so reached out to a number of her previous customers who had left reviews to ask more questions and everyone said DO IT! So I did. It arrived and was perfect- the trick was making sure I still fit in it after having it for 1 year and 4 months prior to the wedding whilst bodybuilding and changing body shapes.
What sort of theme, vibe or style did you go for?
I wanted to work with the venue- rustic and earthy. I went with a colour palette of dusty rose and sage green and worked everything in to the colour and theme as close as I could.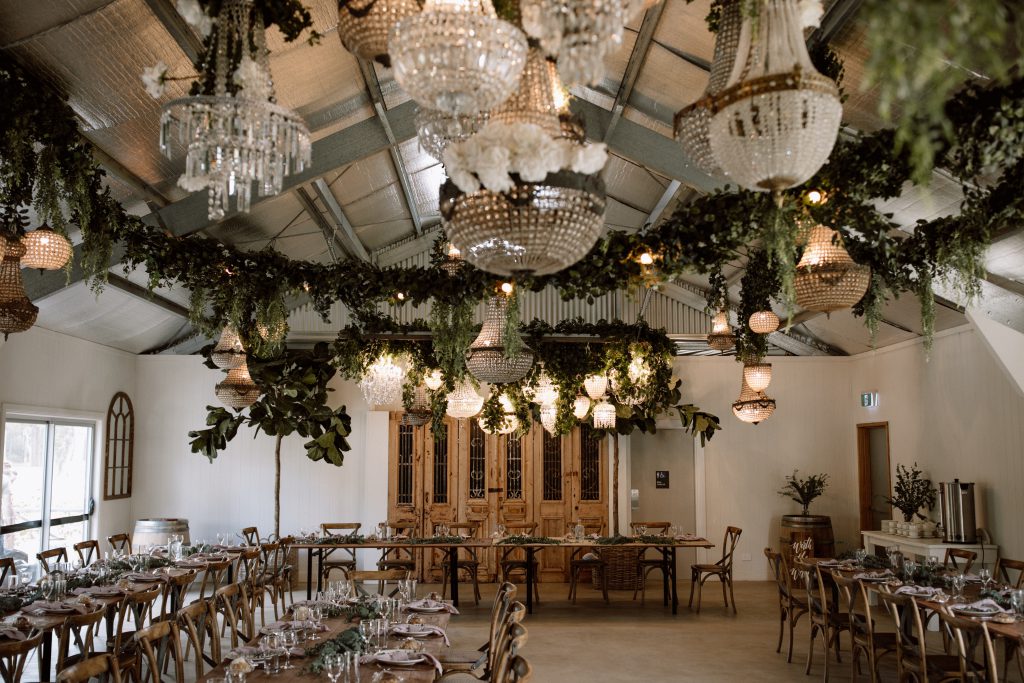 On the Day;
How did you both feel wedding morning?
I felt good. I had everything under control for the most part- mostly thanks to WEC, but I had down the prep and I was confident everything was in order. I also knew to go with the flow- it's a fun event, not a business presentation. You're amongst family and friends, just roll with it and if things were to go wrong, we'll just shake it off and roll with the punches. The only thing not in our control to some degree was the weather and it was hugely windy the day prior and there had been a recent heat wave…after a sprinkle in the morning it came good and was perfect.
What was the best part or moment of your day?
Having the kids involved. They looked incredible and brought several tears to my eyes.  Apart from that I think seeing Mark at the front of the chapel and walking towards him. Is thought of that moment so long and even though we had seen each other up until mid morning that day it was like I had been reunited with him.
Anything you would change about your wedding or anything that didn't go to plan?
Possibly waiting a little longer to walk down the aisle behind my daughter who was flower girl. We didn't get many photos of her in the chapel as I was following. I left a bit of a gap but I'd leave longer if I were to do it over. We had a silent ceremony so none of our guests captured her either. Other than that, no nothing, it was amazing.
Are there any rituals, sentiments or traditions you incorporated into the day?
Not really besides the standard first dance, speeches, cake cutting etc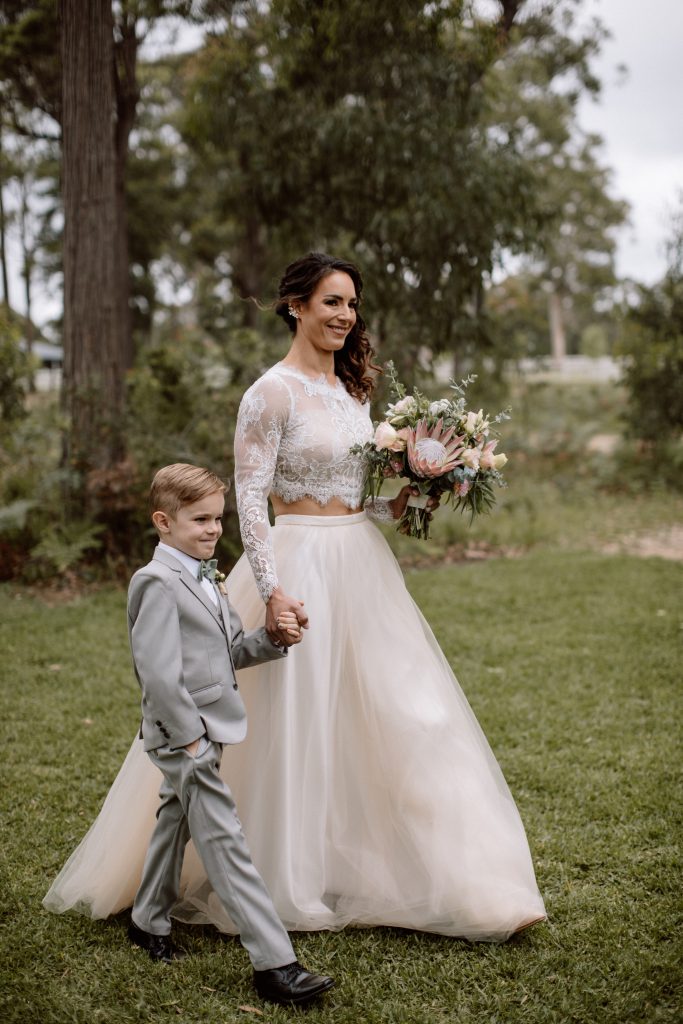 After the Wedding;
Describe newlywed life in a couple of words?
Haha same as before. Wouldn't want it to be any different really. Haven't had a honeymoon because we can't really get away and we have young children and don't particularly want to take them with us. Might be another year until we feel we can leave them for a couple of weeks while we get away.
Best investment or money well spent on the wedding that you made?
Planner for sure! But honestly everything. The day was what it was because of everything. Also so glad we were able to add videographer in the end.
Budget-over, under or what you estimated?
Over. But we had 5 extra months when covid hit and had some things we wanted but weren't able to if we'd had it earlier so added on as we had more time to save. I'd say whatever you think you might spend, add another 20% to that and take that into consideration when budgeting. There are always things you don't think of or last minute additions that you won't see coming so build in the unforeseeables.
Here's what Ali + Mark had to say:
Vendor Credits;
Photos: Tom Coburn
Styling & Coordination: The Wedding and Event Creators
Venue: The Woods Farm
Celebrant: Married By Matty
Catering: Rabbit & Co
Florist: Flowers on the Mill
Cake: Sweet Art Creations
Gelato: The Gelato Bike
Hair & Makeup: Divine Makeup Artistry