Should I DIY My Wedding Flowers?
To DIY or not DIY that is the question….!
Many of our brides consider saving on costs or being a bit creative by DIY their own wedding flowers, there are a few things to think about if looking to go down this path and we cover a few in this blog post.
Heading to the Flower Market
If you are planning to DIY your own florals there are a few options in actual sourcing and getting your flowers. You can order in bulk from your local florist and prep and put them together from there, or you can brave the flower market!
If deciding on the flower market route, we suggest heading to one of the quieter mid-week markets rather than the day before your wedding or a Friday market where it can be quite manic, and you will be busy doing other wedding related things.
Go in with a bit of plan rather than just getting overexcited and buying 5 x what your original budget was (remembering the aim was to save on $$) is another tip!
Transporting the Flowers
A lot of couples choose to have a destination wedding, meaning its important to consider everything you need to transport to the venue prior to the day- dress, props and décor, place cards, overnight bags and so much more. Do you have space to transport a van load of flowers?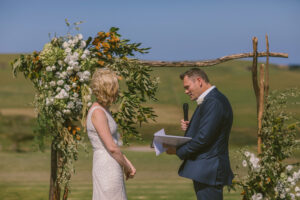 Venue Experience
A lot of local florists have worked countless times at a wedding venue so know the in's and out's of the property including access to load in, the height of the roof, the weight of the roof for hanging things and what looks good or doesn't.
If you decide to DIY your flowers, make sure you take pics of the venue during your site visit so you are well aware of all the areas that need to be considered for dressing and dolling up! Maybe there is a fireplace to be styled, a cake table, the bar, outdoor tables….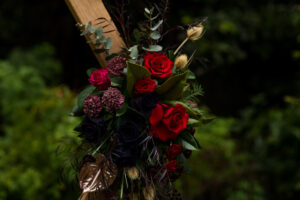 Set Up Time and Prepping
Some venues have strict setup times so setting up the day before may not be possible. If choosing to DIY, just consider the lead in time you have to prepare your florist AND set them up. If you are choosing something simple like flowers in jars that can be prepped 2 days before and left in coolroom for your planner or friend to simply place out, then too easy!
But if you wanted something elaborate that needs to be prepped the morning of the wedding to stay fresh like arbour flowers or hanging greenery then consider getting the experts in to do this, or what helpers you have on hand that will be available to assist with this
In terms of hanging greenery installs through the roof of your venue or marquee, DIY'ers often underestimate the time this takes to set up and put together plus the importance of doing it the morning of your wedding to stay fresh and prevent burn of greenery or wilting.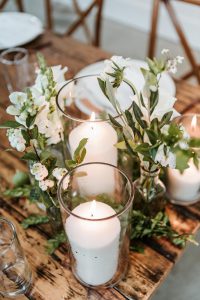 Disposing of the Florals and Pack Down
After a wedding, there is often lots of leftover flowers, consider who is pulling this down and where is it going afterwards.
Is there a compost bin on site or perhaps you are responsible for taking the leftover greenery or bulk florals after the wedding.
Some wedding florists will be responsible for coming back the next day and packing down/taking away everything for you, which can be a massive load off! Discuss if your florist offers this or have a plan to DIY.
There are quite a few pros and cons to choosing to DIY your wedding flowers, sometimes a happy medium is going halfway.
Choosing to DIY your tabletop flowers but leaving it up to the experts to put together your bouquet and hanging installations could save you that extra time and stress in the lead up to your wedding, whilst also allowing you to personalise your space and get creative!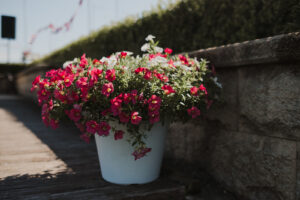 www.weddingandeventcreators.com.au