The Bride's Guide to Wedding Prep
Self-care is probably the last thing on any bride's list of things to worry about. Between all of the tasks associated with planning a wedding alongside balancing work and everyday life, there is not a lot of time to consider much else. Don't lose sight of what the big day is really about; having fun, making memories, and marrying the love of your life! To help take some of the pressure off your shoulders, here are a few bridal-prep tips to keep you calm, happy, and above all, glowing!
Establishing self-care as a priority early on can be a game-changer in how you feel throughout the planning process and on the big day. Take a few minutes to check in with yourself and figure out which aspects of your health are the most important to nurture in order feel your absolute best when all eyes are on you.
If you're worried about blemished or acne prone skin, consider using a high-quality acne cream and starting a routine as early as possible to give your skin time to adjust. Boosting your daily water intake and incorporating flaxseed oil into your diet will give your skin an extra boost of clarity.
Just like your skin, your hair deserves some attention too– especially if excess stress causes your hair to thin or fall out more than normal. To get ahead of the fallout, go as long as you can between washes and use dry shampoo in between. When you do wash your hair, invest in a cleansing shampoo to wash away any excess sebum, the oil produced in your skin. Too much sebum on your scalp can shrink hair follicles and lead to excess shedding. Taking a daily, high-quality biotin vitamin can be a godsend too if you want to grow longer and thicker hair for your wedding day updo.
The earlier these new self-care routines are implemented, the more time they have to work their magic!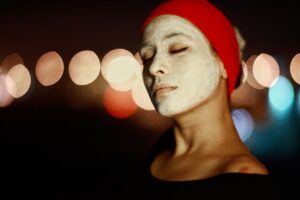 Too Blessed to be Stressed
Give your stress wings and let it fly away! Yes, there are a lot of stressors occupying your mind before your wedding, but don't forget everything there is to be thankful for and all of the things going in your favour. Exchanging your worries for gratitude can help bring you back down to earth and actually enjoy more of your wedding planning process. Before jumping into the hustle and bustle of your everyday routine, consider taking time to cozy up in the quiet morning hours, make a cup of coffee, and write out a journal entry. Journaling will help to relieve stress by getting worries out of your head and onto paper, forcing you to take a step back, reflect, and remind you what there is to be grateful for. Plus, it will be a unique way to remember the time leading up to your wedding!
If you find stress consuming you in the middle of the day and need a quick fix, find a quiet place to briefly close your eyes and practice 7/11 breathing. This is a technique where you focus on breathing in for seven seconds and exhaling for eleven, as many times as you need until you feel the panic start to subside (this helps for wedding day jitters, too!).
If visions of your wedding to-do list keep you up at night, consider picking up a bottle of melatonin at your local drug store or investing in some calming lavender essential oil or lotion. It's important to stay well-rested!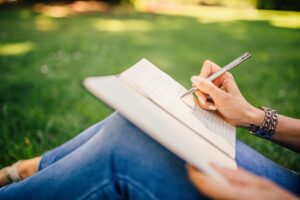 Once you have hit your due date and maybe a week or so after this point sends a follow up to guests you have not heard from yet. A simple text message or email is fine to get a quick response.
Treat Yo'self
Weddings are expensive, to say the least. However, budgeting and allocating just a little spending money towards treating yourself will go a long way! Investing in a fitness class, for example, will help you keep in shape while relieving stress and releasing the endorphins that make you feel happy!
Group classes and gym memberships can be expensive these days, so check Groupon for discount classes in your area. Kickboxing and yoga classes are fun places to start! While you're searching for discount fitness classes, look for deals on massages and manicures, too! You never know what great deal you might snag.
Eat to Feel Good
There are foods that keep us well-nourished and energized and then there are foods that make us feel tired, sluggish, and bloated. While limiting the latter during the entire planning process will keep you feeling good, it can be difficult. Remember that balance is key, and it's most important to try and avoid sugary or alcoholic drinks, deep-fried and processed food, as well as heavy carbs in the days leading up to the wedding. By doing so you can remain energized and eliminate unflattering bloating that might make you feel uncomfortable in your gorgeous gown!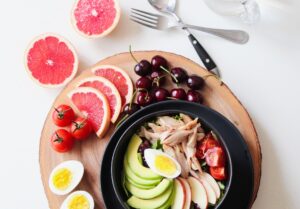 The blog is written by Hers